Item# 147QPPOTPAN
QuikPacks 0.5 oz. Concentrated Pot & Pan Detergent Packs 90 Count Tub - 2/Case
Keep your pots, pans, utensils, and dishes clean and fresh with these Noble Chemical QuikPacks 0.5 oz. concentrated pot & pan detergent water soluble packets! This detergent comes in individual packets for long-lasting convenience. These pre-portioned packets are easy to use and do not require chemical dispensers or measuring equipment to make a properly diluted cleaning solution, helping to reduce chemical waste. It provides professional strength cleaning power while helping you control costs. Effectively clean dishes, pots, pans, utensils, flatware, glassware, and foodservice equipment with this detergent.

A highly concentrated manual dishwashing powder, this detergent creates mild yet long-lasting suds. Use it to efficiently remove grease and cooked on foods. One packet can be mixed with 5 gallons of water for light to medium cleaning. For extra-heavy grease, use 2 packets or proportionately less water. Noble Chemical brand supplies are a smart addition to any restaurant, hotel, or healthcare facility, and these handy detergent packs will keep your pots and pans spotless.

Overall Dimensions:
Package Size: 0.5 oz. per packet
Resources and Downloads
Professional-strength cleaning while controlling costs

Effectively cleans foodservice utensils and equipment

Removes grease and cooked-on foods

Concentrated powder with mild, long-lasting suds

90 packets per tub; 2 tubs per case
Noble Chemical Brand
Noble Chemical brand supplies are a smart addition to any restaurant, hotel, or healthcare facility, and this handy cleaner will keep your floors looking good as new. Our selection of Noble Chemical products includes a variety of institutional and industrial supplies, like cleaning chemicals, insect control solutions, disinfectants, and other products, all of which are available at competitive prices. Plus, these chemicals come packaged in simple jugs and containers that are versatile enough for nearly any job in a business.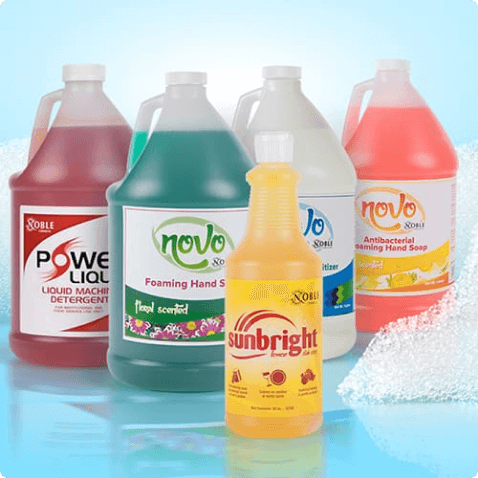 Easy-to-Use Packets
This cleaner comes in convenient, concentrated powdered detergent packs that quickly dissolve in water, leaving a solution ready for cleaning. One packet can be mixed with 5 gallons of water for light to medium cleaning. For extra-heavy grease, use 2 packets or proportionately less water.
Versatile Uses
Remove grease and cooked on foods with this highly concentrated manual dishwashing powder's mild, yet long-lasting suds. Efficiently clean dishes, pots, pans, utensils, flatware, glassware, and foodservice equipment with this detergent.
Noble Chemical Water Soluble QuikPacks Foodservice
Use Noble Chemical's water soluble QuikPacks to keep all areas of your foodservice establishment spotless! Watch this video to learn more about these cleaners.
Customer Reviews
5
Based on 12 reviews
5
92%
4
8%
3
0%
2
0%
1
0%
Share your thoughts
If you've used this product, leave a review to tell us and other customers what you thought about it.
Share your Thoughts
Chris R.
5
We use this in our shop and it is great! Just pop one packet into a mop bucket and fill it up. No need to measure or worry about wasting product or money. The solution cleans the floors great and there is no need to rinse!
Monique A.
5
I switched to this versus liquid. It has helped keep overpouring and waste of product down. It has a good shine to the floor.
Cassandra C.
5
These make it so easy for our staff when cleaning the bathrooms at the end of the night. In fact no need to clean just drop it in and go!