Item# 5372^G
1 qt. / 32 oz. Vanish Laundry Pre-Spotter
Specially formulated for all commercial and industrial laundry applications, the Vanish enzymatic laundry pre-spotter from Noble Chemical is the ideal solution for treating the toughest of stains. Offering superior removal of oil, grease, dirt, make-up, and other tough stains, this item utilizes a blend of enzymes that deeply penetrate stains while safely removing dirt without damaging or fading the fabric. In addition, emulsifiers and soil penetrating agents are found within the solution and assure the complete removal of virtually any stains that come as a result of routine kitchen use.

The Vanish pre-spotter solution dissolves safely in water and will not leave a build-up of residue in the washing machine after use. Perfect for removing everyday stains in kitchen aprons or uniforms, this solution will give your employees' attire a fresh, new look each and every time.

To apply, simply spray on the problem area and let the solution soak for a minimum of 10 minutes. Once finished, it can be tossed into the washing machine.
Resources and Downloads
Specially formulated for commercial and industrial laundry use

Blend of enzymes deeply penetrate toughest of stains

Emulsifiers and soil penetrating agents assure complete removal of oil, grease, and other stains

Will not leave residue in washing machine

Gives uniforms and aprons fresh, new look each time
Instructions on how to use chemical
Easy-to-Follow Instructions

To use this product, follow the instructions printed on the label. Simply apply Vanish to the problem area and let it soak. Once finished, your laundry can be tossed into your washing machine.
Noble Chemical Brand
Noble Chemical brand supplies are a smart addition to any restaurant, hotel, or healthcare facility, and this handy cleaner will keep your floors looking good as new. Our selection of Noble Chemical products includes a variety of institutional and industrial supplies, like cleaning chemicals, insect control solutions, disinfectants, and other products, all of which are available at competitive prices. Plus, these chemicals come packaged in simple jugs and containers that are versatile enough for nearly any job in a business.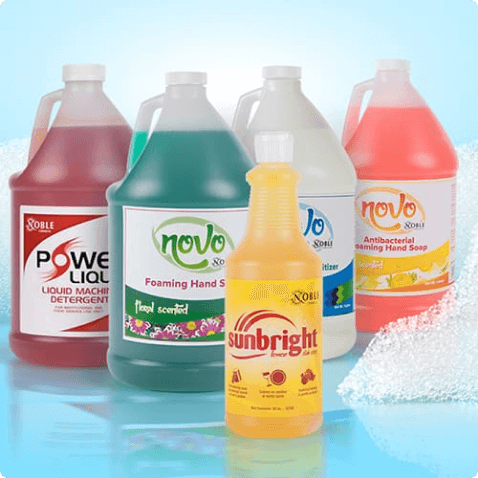 Brightens Your Laundry
Vanish has a special formula that is designed to specifically treat oil, grease, and soil stains, giving your employee's attire a fresh, new look each and every time. This product also has a special formula that won't damage or fade fabric, so your uniforms can stay bright and colorful.
Customer Reviews
5
Based on 22 reviews
5
91%
4
5%
3
0%
2
5%
1
0%
Share your thoughts
If you've used this product, leave a review to tell us and other customers what you thought about it.
Share your Thoughts
Travis F.
5
this is a must have for your laundry room. when you have a tough stain like blood dirt or grass this comes in very handy. spot clean your stains before and let the washer do the rest.
Jonathan P.
5
A very effective laundry pre-spotter that is great for our mechanics overalls. The grease and oil are tough to get out, but the Noble vanish does a really good job.
Brenda M.
5
I tried this product for the first time and it is a keeper! It worked great at removing oil stains from laundry. Left the fabric clean and color like new.