Item# 999FCBOILOUT
8 lb. Fryclone Concentrated Boil-Out Fryer Cleaner
Thoroughly cleaning commercial kitchen equipment can be a difficult job, but this Noble Chemical Fryclone concentrated deep fat fryer cleaner makes eliminating tough grease and grime build-ups easier! This versatile cleaner not only works great on deep fryers, but also on baking ovens, cookers, and other high temperature process equipment. Using this cleaner will help keep your food tasting great and your equipment working for longer.

Instructions for Use on Fryers:
Drain all grease from fryer. Rinse fryer with hot water to remove excess undrained fat. For a fryer holding approximately 30 lb. of fats or oils, fill with cool water to within 3 to 4 inches of top. Add 8 ounces Fryclone to the cold water. Boil slowly for 20 minutes. Use proportionately more or less depending upon the size of the fryer. After termination of boiling, allow to drain slowly, and use long handled, heavy duty brush to clean sides, top, heating elements, etc. Then rinse thoroughly to remove all residue. In subsequent operations, less boiling time is required to perform this cleaning operation and the amount of Fryclone may be cut in half.
Resources and Downloads
Removes baked on grease and carbon

Will not affect metals except aluminum

Increases life of oils by eliminating causes of rancidity
Instructions on how to use chemical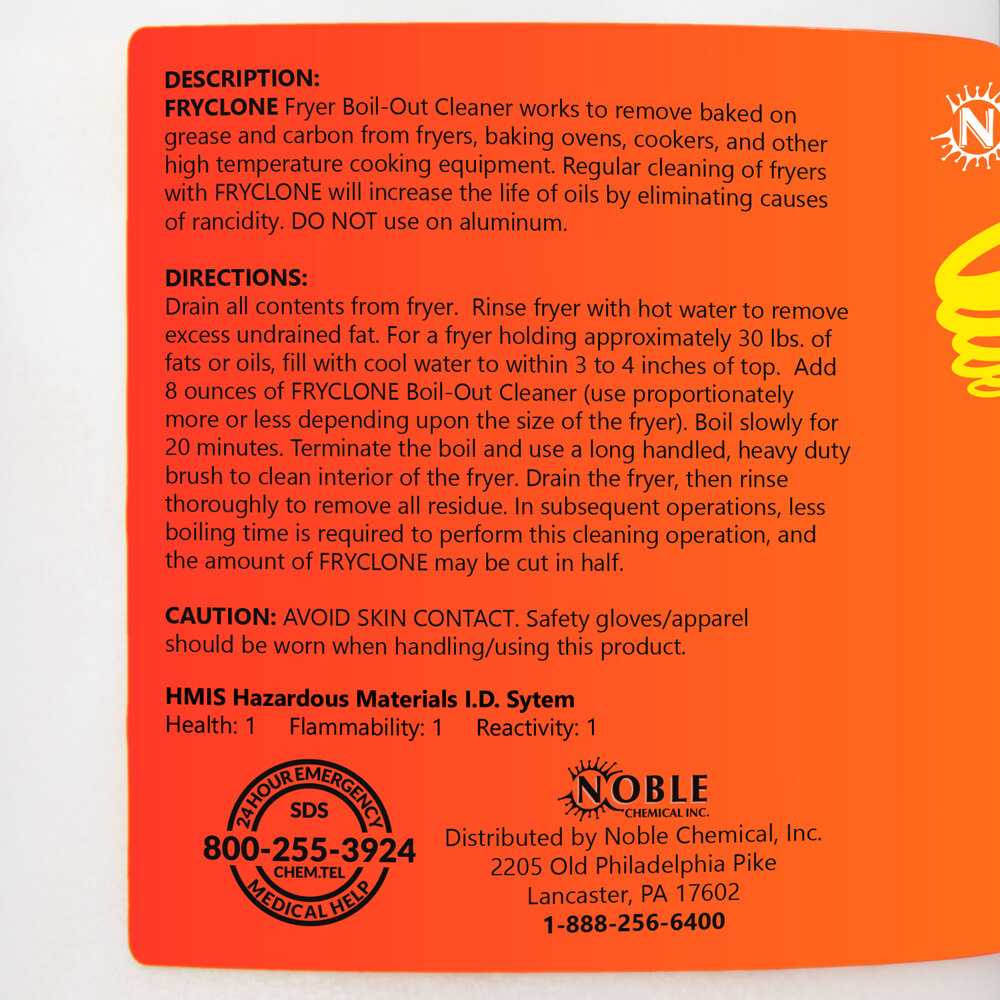 Easy-to-Follow Instructions
To use this product, follow the instructions printed on the label. Begin by draining all contents from fryer and rinse it with hot water to remove excess undrained fat. Then follow the directions pertaining to the size of your fryer.
Noble Chemical Brand
Noble Chemical brand supplies are a smart addition to any restaurant, hotel, or healthcare facility, and this handy cleaner will keep your floors looking good as new. Our selection of Noble Chemical products includes a variety of institutional and industrial supplies, like cleaning chemicals, insect control solutions, disinfectants, and other products, all of which are available at competitive prices. Plus, these chemicals come packaged in simple jugs and containers that are versatile enough for nearly any job in a business.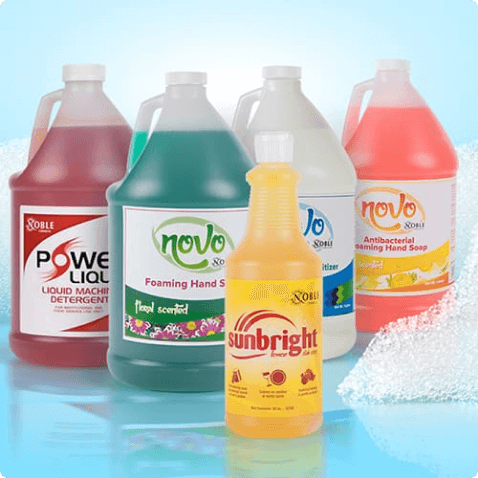 Increases Life of Oils
Since Fryclone eliminates the causes of rancidity, it will increase the life of your fryer oil. Using this deep fat fryer cleaner will also help to improve the taste of your fried treats, so you can continue to serve tasty onion rings, chicken tenders, and fries.
How to Boilout a Fryer
To extend the life of your fryer, taking the time to boil it out is a vital step. To learn how to boil out your fryer, watch this video!
Fryclone Boil Out Cleaner
Remove stuck-on grime and thoroughly clean your fryer using Fryclone boil out cleaner.
Customer Reviews
5
Based on 47 reviews
5
91%
4
6%
3
0%
2
0%
1
2%
Share your thoughts
If you've used this product, leave a review to tell us and other customers what you thought about it.
Share your Thoughts
Allan M.
5
Wow i went by others coments when i bought this Noble deep fryer cleaner and I'm glad i did. It worked great. I will keep using.
WILLIE M.
5
I HAVE TRIED SEVERAL FRYER BOILOUT CHEMICAL NOTHING CAN BE COMPARED TO THE RESULTS OF THIS CLEANER. HERE IS THE BEST PRICE POSSIBLE TRY IT.
Zhongzhi H.
5
Amazing fryer cleaner, I worked in a Chinese restaurant before,but their fryer always keep disguising,dirty, haven't found a good solution, now this product would be the good solution.