Noble Chemical 1 Qt. / 32 oz. Step and Shine Concentrated Floor Cleaner Refill
Item #: 999FC4CQT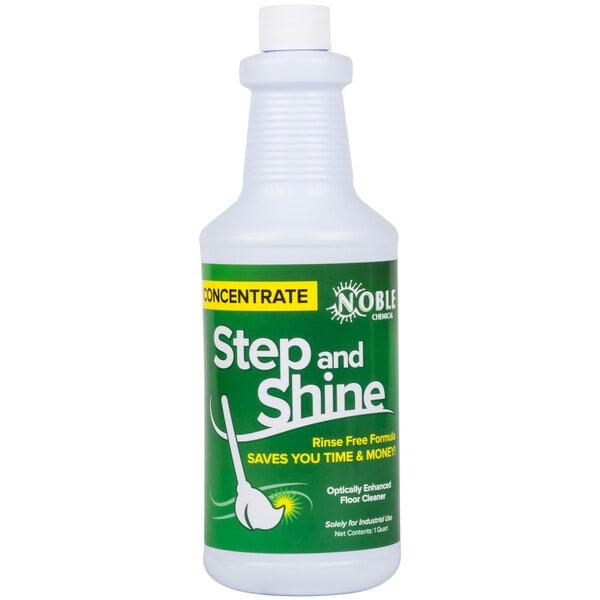 Product Description
Refill your 2.5 gallon Step and Shine floor cleaner empty container with this with this Noble Chemical 32 oz. Step and Shine concentrated floor cleaner refill! Not only does this powerful, fast-acting cleaner contain brighteners to enhance the beauty of your floors, but it's low-foaming design requires no additional rinsing and prevents any soap haze from being left behind, saving you both time and money. Effective at neutralizing existing harsh cleaner residue, removing hard water films, and dissolving ice melt, the solution cleans and shines in one simple step without harming your floors.

The optically enhanced and totally synthetic chemical cleaner is designed for any modern floor maintenance program and is safe for use on a wide variety of surfaces, such as vinyl tile, vinyl asbestos, linoleum, rubber tile, concrete, flagstone brick, terrazzo, and even sealed wood. For added convenience, it can be used with a rotary floor machine or auto scrubber, as well as manual mopping applications. The convenient quart size takes up less storage space, and once diluted, a single 32 oz. bottle will produce 2.5 gallons of cleaner that can be further diluted for your specific floor cleaning needs.

Dilution Instructions:
For best results and to guarantee safe use, it is important to follow specific mixing directions provided on the product label.

General Floor Cleaning: Dilute 1-2 oz. of cleaner per gallon of warm water.

Heavy Duty Floor Cleaning: Dilute 2-4 oz. of cleaner per gallon of warm water.

Automatic Floor Scrubbers: Dilute 1-2 oz. of cleaner per gallon of warm water.

As Mopping Solution Additive: Add 2-3 oz. of cleaner per gallon of water. Waxed or finished floors will be noticeably cleaner and produce more gloss. Will also effectively remove ice melt residue.

After Stripping Conditioner: Dilute 16 oz. of cleaner per gallon of water and mop on floor. Pick-up with a wet/dry vac or mop. Allow floor to dry and then apply finish.