Item# 147BLASTQT
Blast 1 qt. / 32 oz. Ready-to-Use Liquid Oven & Grill Cleaner
This Noble Chemical Blast ready-to-use liquid oven and grill cleaner is designed to remove grease and oil from a wide variety of kitchen cooking equipment including ovens, grills, hoods, deep fat fryers, griddles, fry pans, and more! Throughout the day, your kitchen equipment accrues all manner of grease, oil, carbon, and food particles. By using this fast-acting, odorless cleaner, you will leave your kitchen looking spotless.

Instructions:

Simply spray or brush the cleaner onto the equipment surface and watch as it quickly dissolves tough grease and oil. This cleaner works best on warm equipment surfaces, and must be thoroughly rinsed off after use.
Resources and Downloads
Removes grease, oil, and food particles

For use on a variety of kitchen equipment

Fast-acting, odorless formula

Works best on warm surfaces
Instructions on how to use chemical
Easy-to-Follow Instructions
To use Blast on ovens or grills, simply warm equipment to a low temperature and spray or brush all surfaces. Allow cleaner to soak for several minutes and rinse thoroughly. When using with fryers, fill with Blast and water, boil, drain, rinse, and wipe dry. This bottle also includes clear step-by-step instructions printed on the label.
Before Use
Blast liquid oven and grill cleaner can be used to clean ovens, grills, hoods, deep fat fryers, griddles, frying pans, and much more.
After Use
Cleaning with Blast is quick, easy, and will leave your equipment and appliances grease- and residue-free.
Noble Chemical Brand
Noble Chemical brand supplies are a smart addition to any restaurant, hotel, or healthcare facility, and this handy cleaner will keep your floors looking good as new. Our selection of Noble Chemical products includes a variety of institutional and industrial supplies, like cleaning chemicals, insect control solutions, disinfectants, and other products, all of which are available at competitive prices. Plus, these chemicals come packaged in simple jugs and containers that are versatile enough for nearly any job in a business.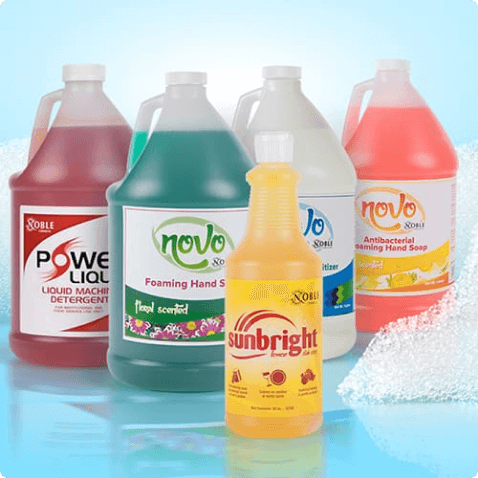 Noble Chemical Blast
Watch this video to learn about the cleaning power of Noble Chemical Blast oven and grill cleaner!
Customer Reviews
5
Based on 65 reviews
5
85%
4
9%
3
3%
2
3%
1
0%
Share your thoughts
If you've used this product, leave a review to tell us and other customers what you thought about it.
Share your Thoughts
Kedby K.
5
excellent product! ! ! can't say much more about it is just awesome and it does its job to perfection will order again and will recommend
Domenico F.
5
this stuff will take any grease off anything, recommend using gloves as this is a strong chemical product, it really cuts the grease out of the oven.
Tom M.
5
There are many grill cleaning chemicals out there. Many of them are very expensive too. I like this one because there isnt any deadly fumes that burn your skin when you put it on the grill. great price too.
Customer Q&As
This individual bottle does not ship with a sprayer because the manufacturer includes several of them when shipping a full case of the product. We've found that many of our customers already have the necessary sprayer on-hand since they order this product by the case. If you do need a sprayer, you can find a compatible one in the "Works With" section of the page.