Item# 147KKOFFEEQT
Klearly Koffee 1 Qt. / 32 oz. Liquid Coffee Pot Cleaner Bottle
Do your coffee pots get mineral buildup and oil deposits during the day? This Noble Chemical Klearly Koffee 32 oz. liquid coffee pot cleaner effectively eliminates these unsightly and unsavory accretions, making your coffee taste better.

This versatile product not only cleans coffee pots, but also airpots, teapots, glass bowls, plastic coffee bins, stainless steel, porcelain and ceramics. Customers will notice the difference when you use this Klearly Koffee liquid coffee pot cleaner.

Instructions:

1. Shake bottle. Apply 3-4 squirts (approx. 1/4 oz. per 1 gal. of liquid) into the vessel or onto the surface to be cleaned. Add very hot water (not boiling).
2. Use a carafe brush for best results on tough stains.
3. Empty solution and rinse vessel thoroughly with clean, warm water. Air dry or wipe clean before next use.
Resources and Downloads
Eliminates unsightly and unsavory mineral buildups

Effective on coffee pots, airpots, teapots, and glass bowls

32 oz. supply
Instructions on how to use chemical
Easy-to-Follow Instructions
To use Klearly Koffee liquid coffee pot cleaner, simply follow the instructions on the label. For best results, use hot water and a carafe brush to clean the stains before rinsing.
Convenient Design
For your convenience, this bottle comes with a squeezable design, ribbed neck, and easy-dispense lid that allows you to control how much solution you use.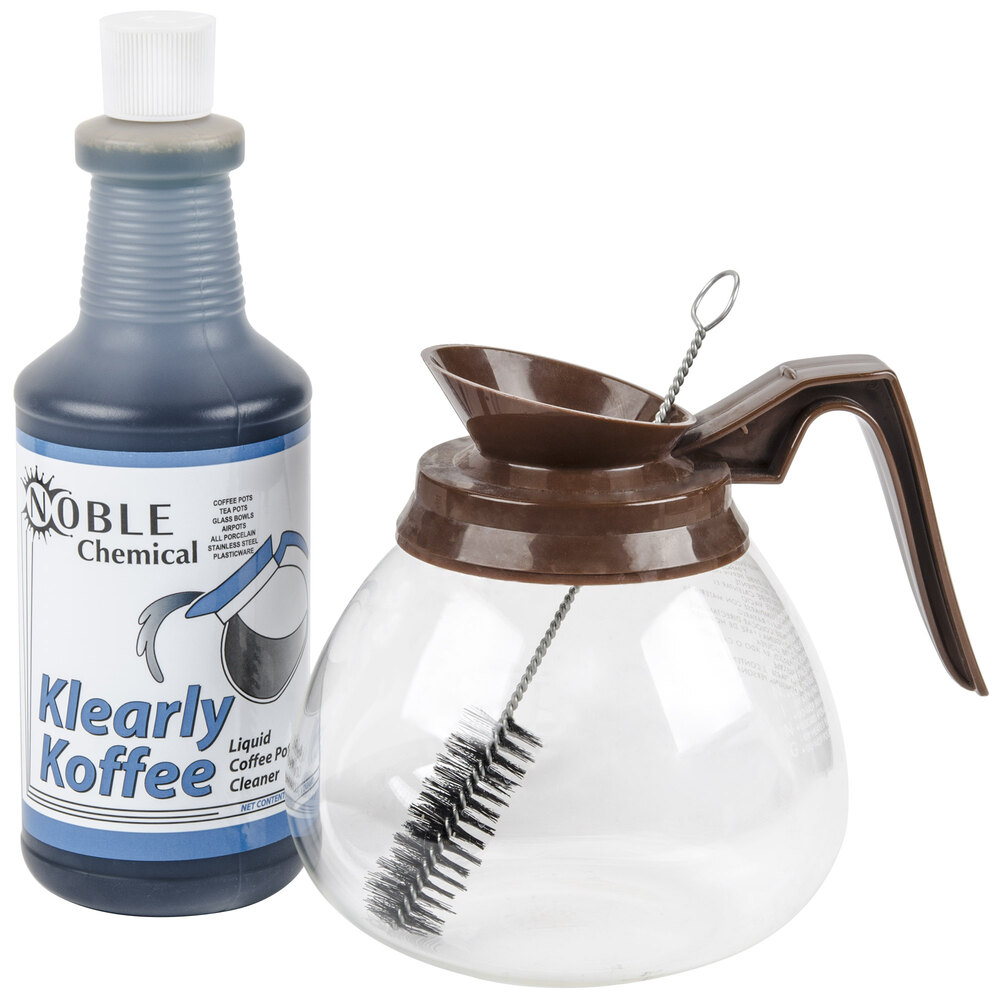 Before Use
Klearly Koffee liquid coffee cleaner gets rid of mineral and oil buildup on your coffee equipment that can affect how your coffee tastes.
Noble Chemical Brand
Noble Chemical brand supplies are a smart addition to any restaurant, hotel, or healthcare facility, and this handy cleaner will keep your floors looking good as new. Our selection of Noble Chemical products includes a variety of institutional and industrial supplies, like cleaning chemicals, insect control solutions, disinfectants, and other products, all of which are available at competitive prices. Plus, these chemicals come packaged in simple jugs and containers that are versatile enough for nearly any job in a business.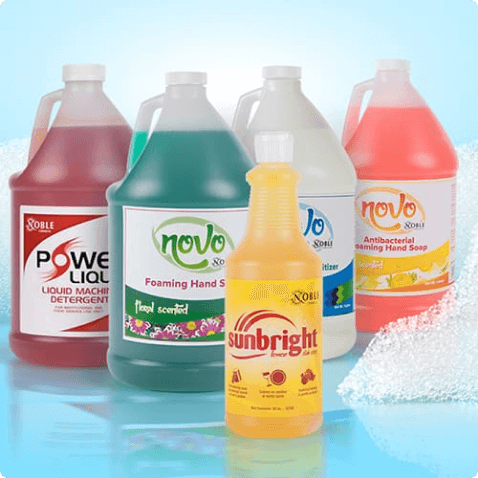 How To Clean A Coffee Pot
Cleaning your decanter or carafe has never been easier! Check out our video and step-by-step directions for expert tips on <b><a href="/article/169/how-to-clean-a-coffee-pot.html" target="_blank">How to Clean a Coffee Pot</a></b>.
Customer Reviews
5
Based on 86 reviews
5
88%
4
10%
3
1%
2
0%
1
0%
Share your thoughts
If you've used this product, leave a review to tell us and other customers what you thought about it.
Share your Thoughts
Kay J.
5
This cleanser works so well! I have tried others but finally have found the product that truly takes the coffee oils and stains off the glass and polycarbonate pots. A little bit goes a long way!
Joseph K.
5
This stuff works really great for getting even the worst stains out of coffee decanters. They look like they're brand new again, and they also smell so much better.
Phil R.
5
I used this to clean some old coffee airposts recently and was pleasantly surprised at how well it worked. Just added about a cup of hot water and a squirt of this cleaner and scrubbed a little.