Item# 147LMNLANRQT
1 Qt. / 32 oz. Lemon Lance Ready-to-Use Disinfectant & Detergent Cleaner - 12/Case
Disinfect, clean, and deodorize soiled surfaces in your kitchen or restroom in one labor-saving step with this Noble Chemical Lemon Lance Ready-to-Use multi-surface disinfectant cleaner and deodorizer. This cleaner is strong enough to kill a broad spectrum of bacteria, fungi, molds, mildew, and viruses, yet gentle enough to thoroughly clean your plexiglass, metal, porcelain, plastic, and other hard, non-porous surfaces without doing any damage.

With this disinfectant cleaner, maintaining a clean establishment is a breeze. To use Noble Chemical's Lemon Lance Ready-to-Use disinfectant and detergent, spray this ready-to-use product to disinfect hard, non-porous, non-food contact surfaces and allow it to remain wet for 10 minutes. Afterwards, wipe it dry or allow it to air dry.

Overall Dimensions:
Package Size: 32 oz.
Resources and Downloads
Lemon scented cleaner adds a fresh aroma

Kills a broad spectrum of bacteria, fungi, molds, mildew, and viruses

Thoroughly and gently cleans plexiglass, metal, porcelain, plastic, and other hard, non-porous surfaces

Versatile, one-step cleaner saves time

Promotes a clean and sanitary environment for guests
Noble Chemical Brand
Noble Chemical brand supplies are a smart addition to any restaurant, hotel, or healthcare facility, and this handy cleaner will keep your floors looking good as new. Our selection of Noble Chemical products includes a variety of institutional and industrial supplies, like cleaning chemicals, insect control solutions, disinfectants, and other products, all of which are available at competitive prices. Plus, these chemicals come packaged in simple jugs and containers that are versatile enough for nearly any job in a business.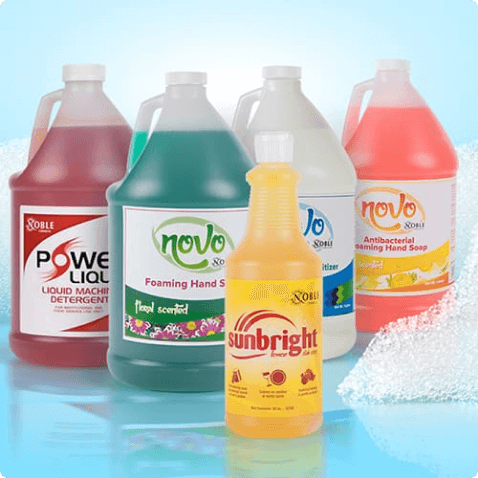 Noble Chemical Lemon Lance Ready-To-Use Quart-Sized Cleaner
Rely on Noble Chemical Lemon Lance ready-to-use cleaner to effectively clean your facility! Learn more about this time- and money-saving cleaner by watching this video.
Customer Reviews
5
Based on 1 review
5
100%
4
0%
3
0%
2
0%
1
0%
Share your thoughts
If you've used this product, leave a review to tell us and other customers what you thought about it.
Share your Thoughts
Kelly G.
5
Bought this cleaner for my food trailer and commissary kitchen. I like it so much I took some home for use there. The head of the spray bottle is sturdy and doesn't twist or spin like cheaper ones. The product smells good and works great!
Customer Q&As
Yes, this product is EPA List N approved to effectively protect against COVID-19. Please follow all label directions for safe and effective use.

Before using any cleaning product, you should thoroughly read and understand the product packaging and Safety Data Sheet. Failure to do so could result in damages to property and/or injury to personnel. (Please see our Resources and Downloads section for further information regarding this product.)

Yes, neutral cleaners (Cleaning chemicals with a pH level close to water) are safe for use on marble and granite. Cleaning chemicals with a pH level either higher (basic) or lower (acidic) than water are not recommended for cleaning marble or granite surfaces.

You can use this product in a fogger by following the proper fogging instructions. Be sure to follow the correct dilution ratios and wear protective equipment while fogging to ensure safe use of this product.