Item# 147ORANGPL1G
1 Gallon / 128 oz. Orange Peel Citrus Concentrated Solvent Cleaner - 4/Case
This all-purpose Noble chemical Orange Peel citrus concentrated solvent cleaner is perfect for restaurants, hotels, and other public establishments. This cleaner cuts through grease, unclogs drains, and deodorizes a wide variety of materials, making it great for nearly any cleaning situation. It contains no petroleum distillates, meaning it is both versatile and eco-friendly. Plus, it leaves behind a refreshing orange smell which is great when cleaning grease traps, lavatory fixtures, dirty carpet, worn fabrics and other malodorous surfaces. This cleaner will get your establishment looking and smelling like new!
Resources and Downloads
Eco-friendly

Pleasant orange scent
Instructions on how to use chemical
Easy-to-Follow Instructions
To use Noble Chemical's Orange Peel citrus solvent cleaner, simply follow the instructions printed on the label. Keep in mind that the process may differ depending on what you want to clean.
Versatile and Highly Effective
This all-purpose cleaner can be used for cutting through grease, unclogging drains, and getting rid of unpleasant odors in any room of your establishment. Perfect for any business, this solution can be used to clean carpet, toilets, machinery, dumpsters, concrete, and any number of other materials or products.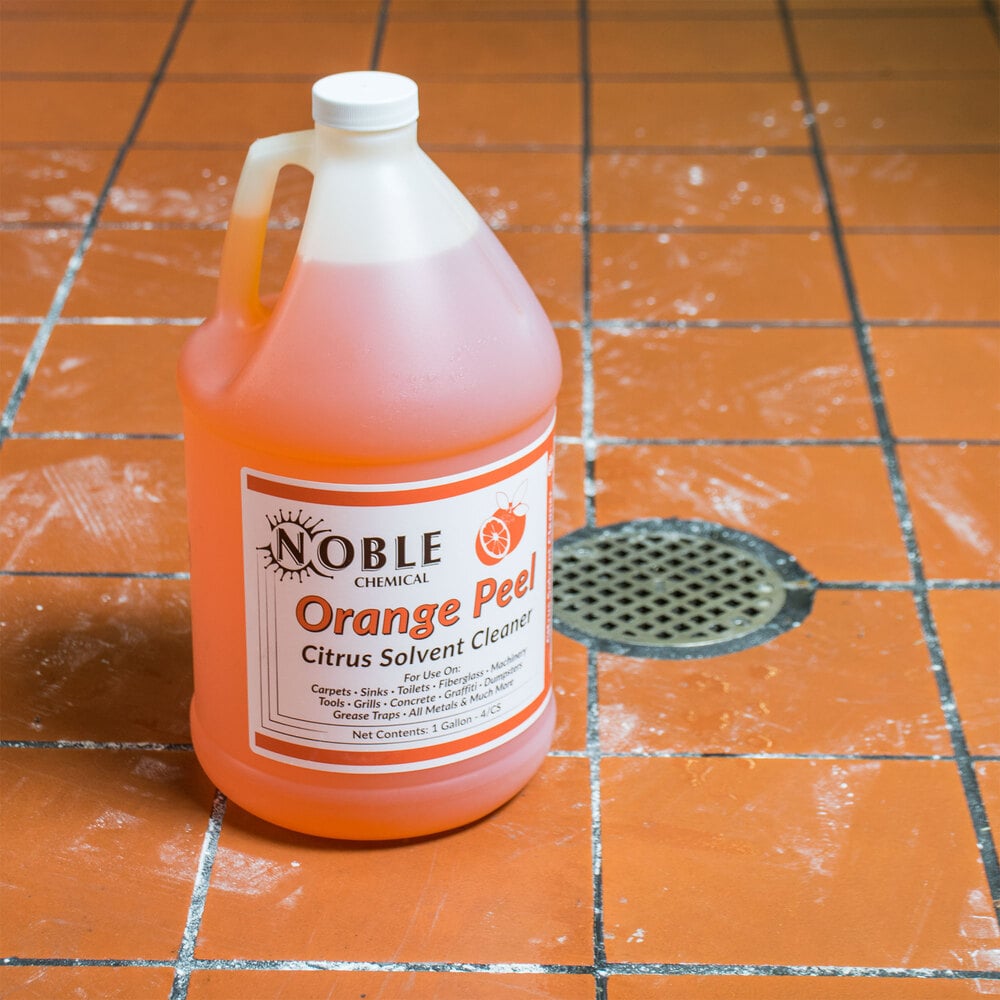 Before Use
This all-purpose cleaner can be used for cutting through grease, unclogging drains, and getting rid of unpleasant odors in any room of your establishment.
Noble Chemical Brand
Noble Chemical brand supplies are a smart addition to any restaurant, hotel, or healthcare facility, and this handy cleaner will keep your floors looking good as new. Our selection of Noble Chemical products includes a variety of institutional and industrial supplies, like cleaning chemicals, insect control solutions, disinfectants, and other products, all of which are available at competitive prices. Plus, these chemicals come packaged in simple jugs and containers that are versatile enough for nearly any job in a business.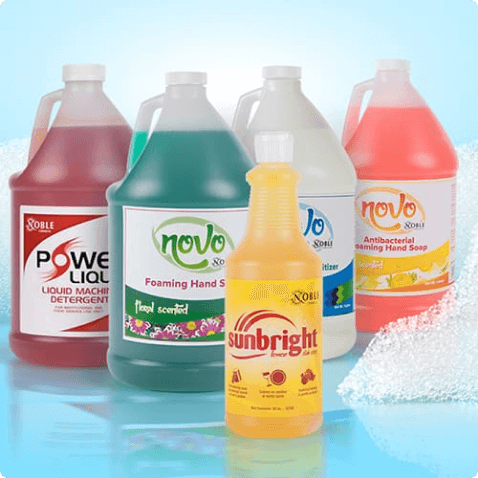 Noble Chemical Orange Peel
Looking for an all-natural cleaner that leaves behind a sleek, polished surface? Check out the Noble Chemical Orange Peel all-purpose solution.
Customer Reviews
5
Based on 23 reviews
5
100%
4
0%
3
0%
2
0%
1
0%
Share your thoughts
If you've used this product, leave a review to tell us and other customers what you thought about it.
Share your Thoughts
Gary
5
A nice orange peel citrus cleaner that is very refreshing and pleasant. The cleaner is great for any job and we use it to clean our floors. A great find.
Michael G.
5
Great degreaser and breaks down hard stains. The smell citrus last long time acting like a deodorizer. Works great on carpet and garage floors. Great price
Marty H.
5
I'm in the cleaning business and always trying cleaning products. I was hoping this was %100 citrus peel but it's not. First ingredient is citrus peel but has water and other stuff. It is highly concentrated. It smells wonderful and cleans well. I haven't done any thing to really put it to the test but does good for general cleaning.
Customer Q&As
This product should not be used to clean linoleum, finished floors or wood floors. The citrus solvents in this item will emulsify some plastics and floor finishes and will dry out wood.