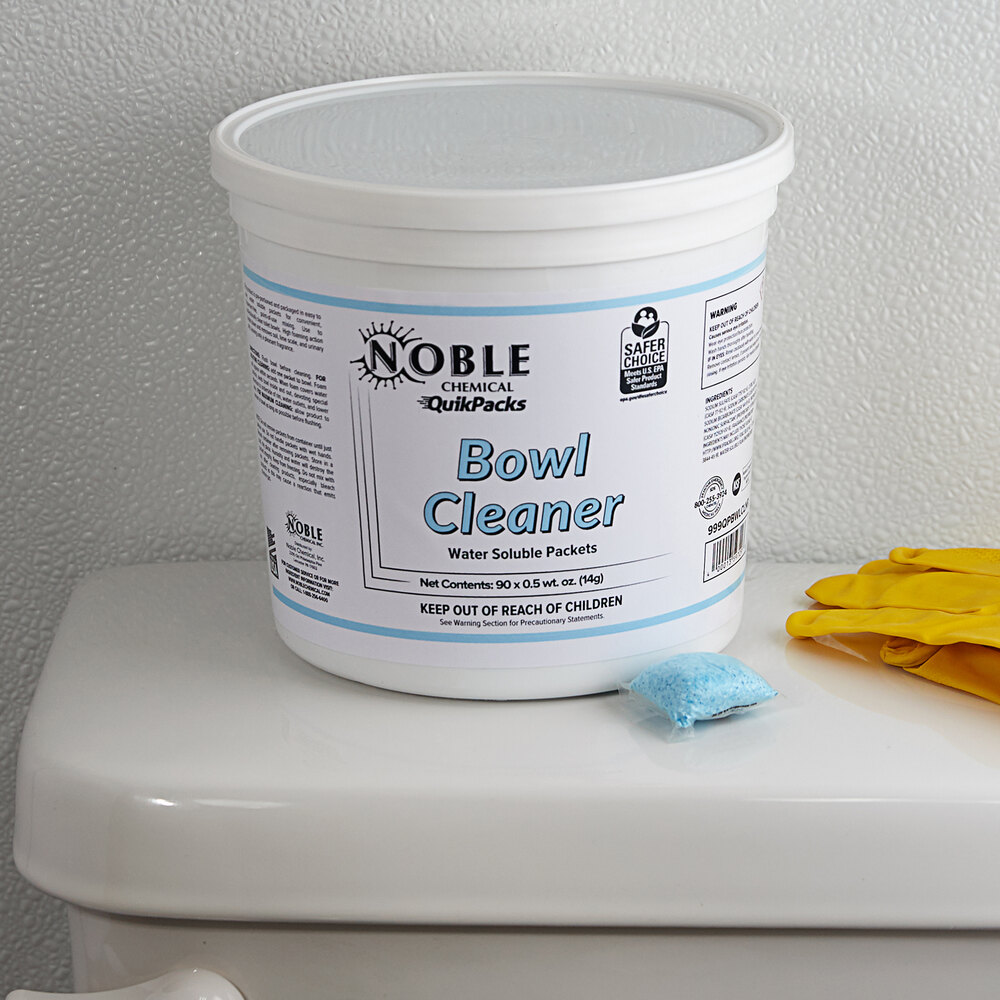 Item# 147QPBWLCLNR
QuikPacks 0.5 oz. Concentrated Bowl Cleaner Packs 90 Count Tub - 2/Case
Keep your toilet bowls clean and fresh with these Noble Chemical QuikPacks 0.5 oz. concentrated bowl cleaner water soluble packets! This cleaner comes in individual packets for long-lasting convenience. These pre-portioned packets are easy to use and reduce chemical waste, helping save you money on operating costs and providing added safety for your cleaning staff. It is designed to destroy stubborn stains built up from soils, lime scale, and urinary salts. Its professional strength cleaning power is ideal for daily or routine maintenance. Carrying both Safer Choice and NSF certifications, this product is a great addition to your established cleaning program with a formula you can trust.

This cleaner is non-acidic, making it an environmentally responsible choice. To use, make sure to flush the toilet bowl before cleaning. Add one water soluble packet of bowl cleaner to the toilet bowl. Foam will appear within seconds. When foam covers the bowl surface, scrub inside, outside, and under the rim of the bowl. Make sure to let toilet stand as long as is practical or possible before flushing. Noble Chemical brand supplies are a smart addition to any restaurant, hotel, or healthcare facility, and these handy cleaner packs will keep your establishment spotless.

Overall Dimensions:
Capacity: 0.5 oz. per packet
Resources and Downloads
Professional-strength for daily or routine maintenance

Removes tough stains without harming plumbing

Destroys stubborn stains built by soils, lime scale, and urinary salts

90 packets per tub; 2 tubs per case
Features
Easy-to-Use Packets
The easy-to-use packets quickly dissolve in water, leaving a solution ready for cleaning. To use, make sure to flush the toilet bowl before cleaning. Add one water soluble packet of bowl cleaner to the toilet bowl. Foam will appear within seconds. When foam covers the bowl surface, scrub inside, outside, and under the rim of the bowl. Make sure to let toilet stand as long as is practical or possible before flushing.
Hard-Working Formula
This cleaner destroys stubborn stains built up from soils, lime scale, and urinary salts. Its professional strength cleaning power is ideal for daily or routine maintenance.
Noble Chemical Brand
Noble Chemical brand supplies are a smart addition to any restaurant, hotel, or healthcare facility, and this handy detergent will help to maintain a clean and sanitary environment in your establishment. Be sure to check out our quantity discounts for even better wholesale savings!
Noble Chemical Water Soluble QuikPacks
Noble Chemical water soluble QuikPacks are a convenient, eco-friendly solution to your cleaning needs! Watch this video to learn more about these versatile cleaning packets.
Customer Reviews
5
Based on 12 reviews
5
92%
4
8%
3
0%
2
0%
1
0%
Share your thoughts
If you've used this product, leave a review to tell us and other customers what you thought about it.
Share your Thoughts
Chris R.
5
We use this in our shop and it is great! Just pop one packet into a mop bucket and fill it up. No need to measure or worry about wasting product or money. The solution cleans the floors great and there is no need to rinse!
Monique A.
5
I switched to this versus liquid. It has helped keep overpouring and waste of product down. It has a good shine to the floor.
Cassandra C.
5
These make it so easy for our staff when cleaning the bathrooms at the end of the night. In fact no need to clean just drop it in and go!