Item# 147QPXTRACLN
QuikPacks 3.5 Gram Extra Strength Cleaner Packets - 24/Bag
Keep a wide variety of surfaces clean and fresh with these Noble Chemical QuikPacks 3.5 gram extra strength cleaner water soluble packets! This concentrated cleaner comes in individual packets for long-lasting convenience. These pre-portioned packets are easy to use and do not require chemical dispensers or measuring equipment to make a properly diluted cleaning solution, helping to reduce chemical waste. This heavy-duty, all-purpose cleaner and degreaser is designed to remove a wide range of stains and messes, including oil, dirt, grime, tar, rubber marks, ink, coffee, and blood.

Dissolve one packet of this moderate-sudsing industrial cleaner into one quart of water, or use 4 packets with 1 gallon of water for larger surface areas. It is non-flammable, non-toxic, and non-corrosive. Noble Chemical brand supplies are a smart addition to any restaurant, hotel, or healthcare facility, and these handy extra strength cleaner packs will keep your establishment spotless.

Overall Dimensions:
Capacity: 3.5 grams per packet
Resources and Downloads
Heavy-duty, all-purpose, extra strength cleaner and degreaser

Removes grease, grime, tar, rubber marks, ink, coffee, and blood

1 portion packet makes 1 qt. of cleaner

24 packets included
Features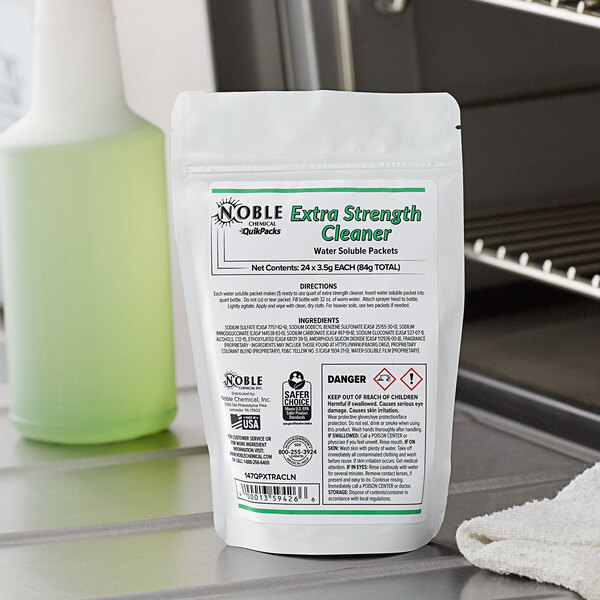 Easy-to-Use Packets
This cleaner comes in convenient, concentrated powdered detergent packs that quickly dissolve in water, leaving a solution ready for cleaning. Dissolve one packet of this moderate-sudsing industrial cleaner into one quart of water, or use 4 packets with 1 gallon of water for larger surface areas.
Versatile Uses
This heavy-duty, all-purpose cleaner and degreaser is designed to remove a wide range of stains and messes, including oil, dirt, grime, tar, rubber marks, ink, coffee, and blood.
Environmentally Friendly
Packaged in a 100% biodegradable film, these packets do not require chemical dispensers or measuring equipment to make properly diluted cleaning solution, helping to reduce chemical waste.
Noble Chemical Brand
Noble Chemical brand supplies are a smart addition to any restaurant, hotel, or healthcare facility, and this handy detergent will help to maintain a clean and sanitary environment in your establishment. Be sure to check out our quantity discounts for even better wholesale savings!
Noble Chemical Water Soluble QuikPacks for Quart Size Solutions
Use Noble Chemical's water soluble QuikPacks to keep all areas in your business spotless! To learn more about these concentrated, pre-portioned packets, watch this video.
Customer Reviews
5
Based on 1 review
5
100%
4
0%
3
0%
2
0%
1
0%
Share your thoughts
If you've used this product, leave a review to tell us and other customers what you thought about it.
Share your Thoughts
Alexis J.
5