Item# 147STRIKE2HG
2.5 Gallon / 320 oz. Strike All Purpose Cleaner Degreaser - 2/Case
Noble Chemical Strike is an all-purpose, water-based cleaner and degreaser formulated to remove grease, oil, carbon, or any other industrial soil from concrete, machinery, engines, floors, walls, and more! Noble Chemical Strike is low foaming for use in automatic scrubbers and is also extremely concentrated for dilutions of up to 1 ounce per gallon of water. It is non-toxic and nonflammable. Noble Chemical Strike cleans faster, easier, and more economically than any product on the market today, making it great for any restaurant or commercial kitchen on a budget.



Instructions:
Dilute with water depending on the job requirement, and apply with a mop, sprayer, sponge, or automatic scrubber. After applying, allow to stand for several minutes. For heavy soil, agitate the surface briskly with a brush or aggressive pad. Wipe clean with a moist rag, sponge, or pick up with a wet vac or mop. Where applicable, rinse thoroughly with water, and avoid contact with windows or other glass surfaces.

This product meets the maximum content requirements for Volatile Organic Compounds (VOCs) as established by state and federal regulations.
Resources and Downloads
Low foaming for use in automatic scrubbers

Non-toxic

All-purpose cleaner and degreaser
Instructions on how to use chemical
Easy-to-Follow Instructions
To use this product, follow the instructions on the label. Since Strike can be used on an assortment of products, it's important that you follow the directions pertaining to your specific surface.
Before Use
Strike can be used to clean any surface that is not harmed by water. This product is also extremely concentrated for dilutions of up to 1 ounce per gallon of water.
After Use
Cleaning with Strike will leave your equipment, furniture, or floors sparkling and will keep your employees and customers happy.
Noble Chemical Brand
Noble Chemical brand supplies are a smart addition to any restaurant, hotel, or healthcare facility, and this handy cleaner will keep your floors looking good as new. Our selection of Noble Chemical products includes a variety of institutional and industrial supplies, like cleaning chemicals, insect control solutions, disinfectants, and other products, all of which are available at competitive prices. Plus, these chemicals come packaged in simple jugs and containers that are versatile enough for nearly any job in a business.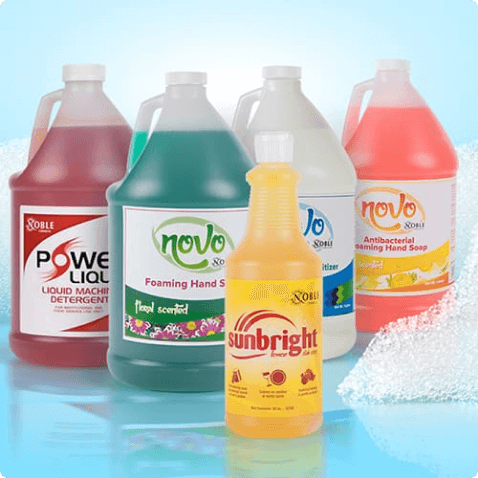 Customer Reviews
5
Based on 6 reviews
5
100%
4
0%
3
0%
2
0%
1
0%
Share your thoughts
If you've used this product, leave a review to tell us and other customers what you thought about it.
Share your Thoughts
Randall H.
5
when it comes degreasers it has to be the good stuff. there are cheaper products out there but if you want good then this is the brand for you.
John H.
5
The Noble Chemical " Strike" All Purpose Cleaner / Degreaser. It is great for those greese dishes, and even for using in the mop bucket when mopping behind the cook area. It even takes grease out of clothes.
Curtis C.
5
If you're looking for a good degreasers you should try this one. The Strike all purpose claener is the best degreaser your will find to clean the grease off your walls.
Customer Q&As
Yes. This product should be thoroughly rinsed off the surface after application. After applying, allow to stand for several minutes, then rinse.