Item# 147TDSRINSE1G
TDS Rinse 1 Gallon / 128 oz. Additive Drying Agent - 4/Case
Speed up your dishwashing process with this Noble Chemical TDS Rinse additive drying agent! Its specially designed formula speeds up drying times while eliminating spotting, streaking, foaming, and white film caused by dissolved minerals in water. For your convenience, this versatile drying agent can be used in all water conditions and should be mixed only with water. This drying agent will quickly get your dishes ready for the dining floor to cut down on wait times and increase profits!
Resources and Downloads
Speeds up drying times

Eliminates spotting, streaking, foaming, and white film

Works in all water conditions
Instructions on how to use chemical
Easy-to-Follow Instructions
To use this product, follow the instructions on the label. Simply insert your blue plastic rinse feed tube to the bottom of the TDS Rinse bottle. The rinse additive will feed automatically as required.
Noble Chemical Brand
Noble Chemical brand supplies are a smart addition to any restaurant, hotel, or healthcare facility, and this handy cleaner will keep your floors looking good as new. Our selection of Noble Chemical products includes a variety of institutional and industrial supplies, like cleaning chemicals, insect control solutions, disinfectants, and other products, all of which are available at competitive prices. Plus, these chemicals come packaged in simple jugs and containers that are versatile enough for nearly any job in a business.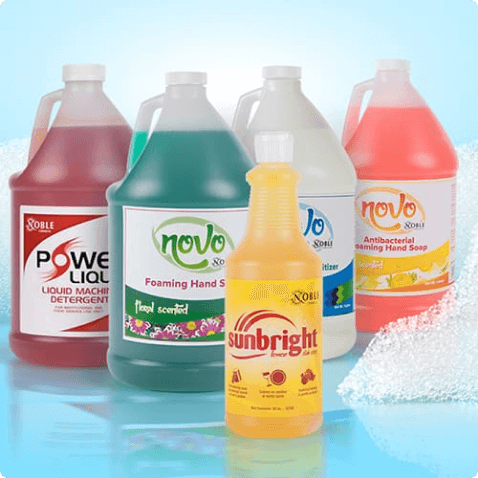 Convenient Design
This bottle's easy-to-grip handle fits perfectly in your hand and makes it easy to carry around your restaurant, bar, or diner.