Item# 147WSHBRT2HG
2.5 Gallon / 320 oz. Wash Brite Laundry Detergent - 2/Case
Use this 2.5 gal. Noble Chemical Wash Brite laundry detergent to get your aprons, towels, bed linens, and other laundry items clean. Its specially blended, concentrated formula of builders, surfactants, brighteners, and soil-suspending agents effectively removes dirt, grease, and food stains to give your restaurant, hotel, or hospital the clean, fresh, and inviting look it deserves. For your convenience this product can be used with bleach as needed to help give your whites the brightest look possible.
Resources and Downloads
Removes dirt, grease, and food stains

Great for restaurants, hotels, and hospitals
Instructions on how to use chemical
Easy-to-Follow Instructions
To use this product, follow the instructions printed on the label. In order to get the best results from Wash Brite, you should use it with hot water. However, this detergent can be used efficiently with cold water.
Before Use
This concentrated detergent formula will easily clean dirt and other stains from clothes, towels, aprons, and other textiles.
After Use
Noble Chemical Wash Brite solid laundry detergent is perfect for use with all soil loads and water conditions.
Noble Chemical Brand
Noble Chemical brand supplies are a smart addition to any restaurant, hotel, or healthcare facility, and this handy cleaner will keep your floors looking good as new. Our selection of Noble Chemical products includes a variety of institutional and industrial supplies, like cleaning chemicals, insect control solutions, disinfectants, and other products, all of which are available at competitive prices. Plus, these chemicals come packaged in simple jugs and containers that are versatile enough for nearly any job in a business.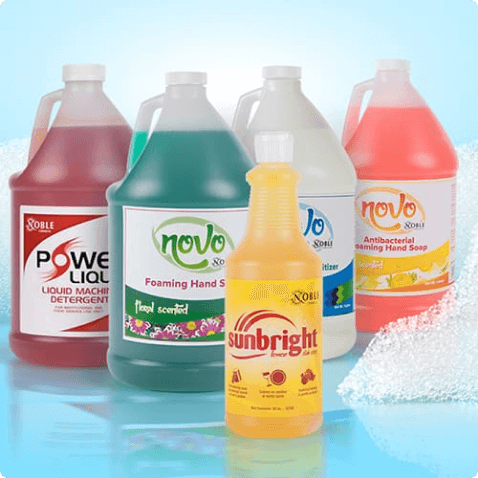 Customer Reviews
5
Based on 4 reviews
5
100%
4
0%
3
0%
2
0%
1
0%
Share your thoughts
If you've used this product, leave a review to tell us and other customers what you thought about it.
Share your Thoughts
Jodi G.
5
I use this on my stained towels. This soap does an amazing job getting rid of the hard stuff. Keeps my white towels very bright
Lynn W.
5
I would wash my own clothes with this! We use this detergent on rags and towels and stains always come out! It is cheap and works well.
Hank T.
5
A great wash brite laundry detergent that is great for my sheets and towels. It makes both of them look brand new and they are both so white and shiny.