Item# 148CLEANITQK
15 oz. Clean-It-Quick Ready-to-Use Vandalism Mark Remover - 12/Case
Eliminate unsightly markings like paint, ink, crayon, and scuff marks without damaging surfaces or finishes with Clean-It-Quick ready-to-use vandalism mark remover from Noble Chemical! This heavy duty aerosol is made from carefully blended solvents that effectively remove graffiti markings found on restroom walls, road signs, billboards and many other areas frequently targeted by vandals. Safe for use on aluminum, glass, marble and many other surfaces, this mark remover is applied by simply spraying on the affected area, allowing the solvent time to react with the marking, and wiping away! This formula is USDA authorized for use in Federally inspected meat and poultry plants.
Resources and Downloads
Removes ink, paint, scuffs, & many other marks

For heavy duty use

Safe for aluminum, glass, marble, & more

USDA authorized for use in meat & poultry plants
Instructions on how to use chemical
Easy-to-Follow Instructions
To use this product, follow the instructions printed on the label. On smooth and rough surfaces, spray directly, allow solvent to react with markings, then wipe away.
Noble Chemical Brand
Noble Chemical brand supplies are a smart addition to any restaurant, hotel, or healthcare facility, and this handy cleaner will keep your floors looking good as new. Our selection of Noble Chemical products includes a variety of institutional and industrial supplies, like cleaning chemicals, insect control solutions, disinfectants, and other products, all of which are available at competitive prices. Plus, these chemicals come packaged in simple jugs and containers that are versatile enough for nearly any job in a business.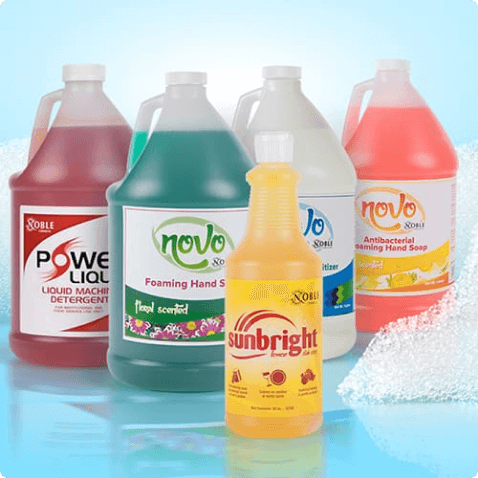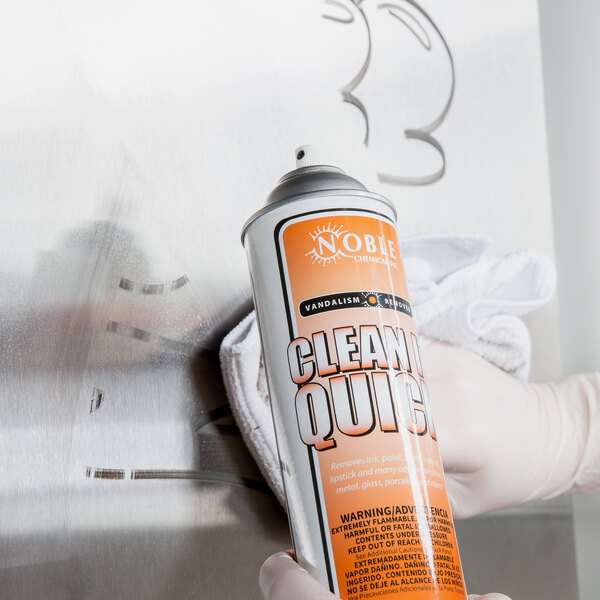 Aerosol Design
Since this product comes in an aerosol can, you can easily spray the surface you need to clean. Additionally, Clean-It-Quick is USDA authorized for use in federally-inspected meat and poultry plants.
Customer Reviews
4.5
Based on 7 reviews
5
86%
4
0%
3
14%
2
0%
1
0%
Share your thoughts
If you've used this product, leave a review to tell us and other customers what you thought about it.
Share your Thoughts
Lisa H.
5
The Noble Chemical clean-it-quick mark remover is great at removing marker and pen writing from our bathrooms and walls. It is a terrific buy and helps us keep our business looking great.
Andrea C.
5
This product can cancel all the Vadalism Mark from the Wall or Concrete... You also can use it when the kids use the pen in the wall...
Chris L.
5
This vandalism spray removes ink and paint for most surfaces. Necessity for any school or business that needs to remove any type of paint or scuff marks.