Item# 148IMPACT
16 oz. Impact Ready-to-Use Disinfectant Spray / Deodorizer - 12/Case
Noble Chemical Impact ready-to-use aerosol disinfectant and deodorant acts within 10 minutes to disinfect nearly any germ laden surface! When properly used, Impact will reduce the hazard of cross contamination by bacteria from environmental surfaces like trash cans, toilet seats, telephones, door knobs, metal beds, wheel chairs, and much more. Impact suppresses and eliminates odors by chemically neutralizing odor producing materials. It's effective on odors from any source in hospitals, nursing homes, and ambulances as well as kitchens, bathrooms, industrial plant processes, food processing and packaging plants, and food stores.

When you used properly, this product will eliminate or control the following bacteria, fungi, and viruses: Tubercle bacillus, Mycobacterium smegmatis, Pseudomonas aeruginosa, Salmonella choleraesuis, Salmonella schottmuelleri (paratyphoid B) Salmonella typhosa, Shigella paradysenteriae, Staphylococcus aureus, Streptococcus pyogenes, Trichophyton interdigitale, Aspergillus niger, Penicillium, Herpes simplex virus type 1 and type 2, and HlV-1 (AlDS virus). Do not use on polished wood furniture or rayon fabrics.

Instructions:
FOR DISINFECTING:Clean surface thoroughly with an effective detergent followed by a potable water rinse in order to remove heavy soil or gross filth. Allow to air dry. Hold dispenser upright about 6 to 8 inches from surface to be disinfected and spray 3 seconds or until surface is thoroughly wet. Allow to remain for at least 10 minutes at 20 degrees C(68 degrees F) for effective results.

FOR MILDEW CONTROL:Clean surface. Spray surface until wet. Repeat application every week to maintain control.
Resources and Downloads
Eliminates and controls certain bacteria, fungi, and viruses

Neutralizes odors on a variety of surfaces

Great for hospitals, restaurants, restrooms, and more

Fast-acting disinfectant
Instructions on how to use chemical
Easy-to-Follow Instructions
Each bottle of Impact features easy-to-understand instructions for use. After washing your surface with detergent and rinsing it with water, simply spray this disinfectant and allow it to remain for at least 10 minutes to eliminate germs.
Noble Chemical Brand
Noble Chemical brand supplies are a smart addition to any restaurant, hotel, or healthcare facility, and this handy cleaner will keep your floors looking good as new. Our selection of Noble Chemical products includes a variety of institutional and industrial supplies, like cleaning chemicals, insect control solutions, disinfectants, and other products, all of which are available at competitive prices. Plus, these chemicals come packaged in simple jugs and containers that are versatile enough for nearly any job in a business.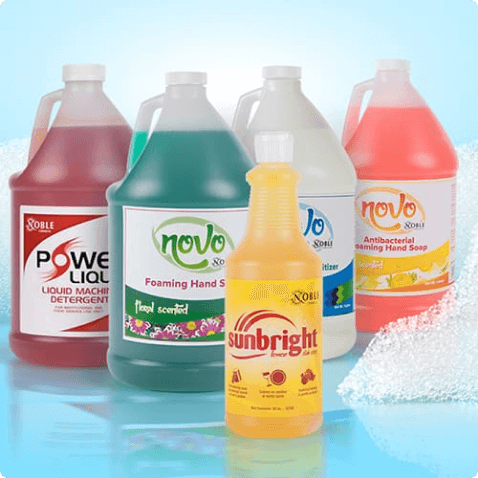 Neutralizes Odors
This disinfectant and deodorant acts within 10 minutes to sanitize nearly any germ-laden surface, reducing the risk of illness and cross-contamination.
Fast-Acting Disinfectant
This disinfectant and deodorant acts within 10 minutes to sanitize nearly any germ-laden surface, reducing the risk of illness and cross-contamination.
Customer Reviews
5
Based on 32 reviews
5
100%
4
0%
3
0%
2
0%
1
0%
Share your thoughts
If you've used this product, leave a review to tell us and other customers what you thought about it.
Share your Thoughts
Angela H.
5
The 16 oz. Noble Chemical " Impact " Hospital Disinfectant / Deodoirzer Aerosol . Kills Bacteria within 10 min. Has a nice smell. Keep from passing germs, also usedin hospitals.
Anita T.
5
noble chemical Impact Disinfectant Deodorant - Aerosol 16 oz. has a nice smell. this product is great, it disifectant well. nice for the bathroom. thanks
Jeremy J.
5
This aerosol impact disinfectant deodorizer is a great product. Has a mild smell and gets the job done. Great product to use for multipurpose use.
Customer Q&As
Yes, this product is EPA List N approved to effectively protect against COVID-19. Please follow all label directions for safe and effective use.