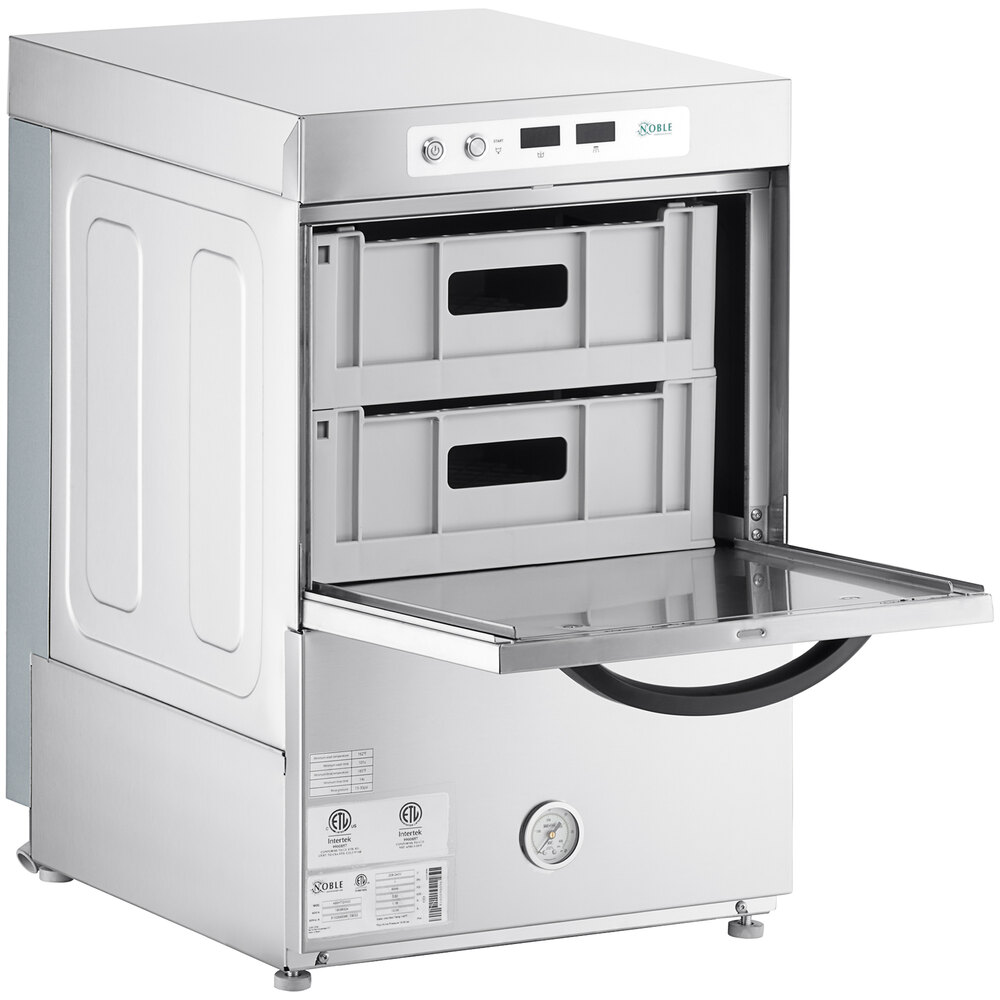 Item# 495HTGW22
HTGW High-Temperature Underbar Glass Washer - 208V/240V, 1 Phase
Choose a reliable product with this Noble Warewashing HTGW high-temperature underbar glass washer - 208V/240V, 1 phase. This glass washer is constructed with durable 304 stainless steel that is sleek and made to last. It is also extremely efficient. It uses only .53 gallons of water per cycle and can clean an impressive 22 racks; 792 glasses per hour. This high-temperature glass washer has an operating water temperature of 140 degrees Fahrenheit and a rinsing water temperature of 180 degrees Fahrenheit. This unit is perfect for commercial kitchens, hotels, and restaurant settings.

This glass washer sports a powerful 1/3 hp wash pump motor. Its heating element is extremely effective and maintains final rinse temperatures for each cycle. Its electromechanical controls are intuitive and easy to use. It operates using a 120 second cycle that is great for high-volume usage. To help keep your operation organized, this glass washer includes two flat 16" x 16" racks, a cutlery container, and a dish rack. It also includes a built-in detergent and rinse aid dispenser, and a booster heater. The booster heater tank has a 1.1 gallon capacity that is ideal for high-volume use. This unit also features a waste accumulator that is easy to clean and keeps the operation running effectively.

Overall Dimensions:
Width: 18 1/2"
Depth: 20 5/8"
Height: 28 1/8"

Interior Dimensions:
Width: 18 1/2"
Depth: 16 1/2"
Height: 11 3/4"
304 stainless steel construction is durable and made to last

Cleans up to 22 racks; 792 glasses per hour

Electromechanical controls are convenient and easy to access

Efficient heat element and 1/3 hp wash pump motor maintains final rinse temperatures

Ideal for commercial kitchens, hotels, and restaurants