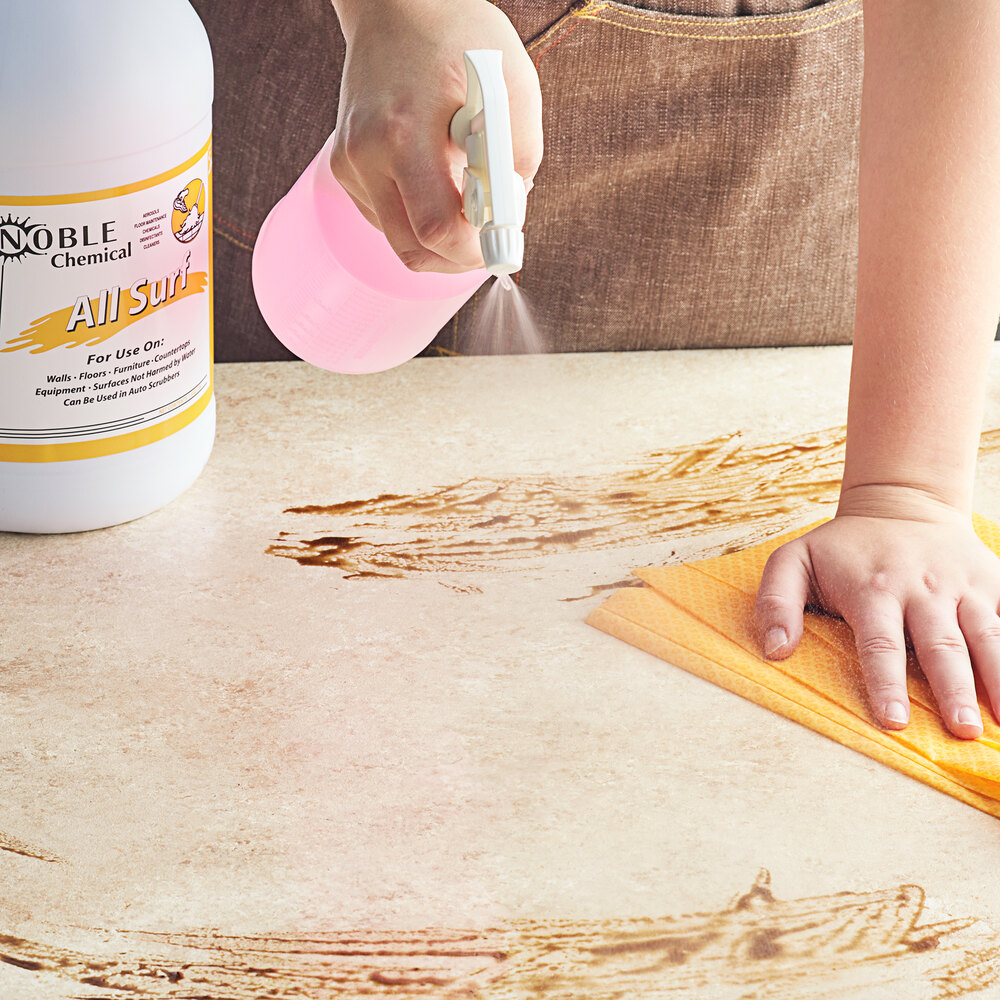 Item# 999ALLSURF
All Surf All Purpose Liquid Cleaner (Non-Butyl)
This Noble Chemical All Surf all-purpose, non-butyl liquid cleaner is effective in cleaning a wide variety of surfaces such as walls, floors, furniture, kitchen equipment, or any surface not harmed by water. It features a low foaming formulation which allows for use in automatic scrubbers. Floor finishes, waxes, and painted surfaces will not soften or dull with this cleaner. In addition to being highly effective, it is also safe to use in any restaurant, as it is non-toxic, non-corrosive, and non-flammable.
Resources and Downloads
Non-corrosive and non-flammable

Low foaming for use in automatic scrubbers

Safe on concrete, porcelain, chrome, plastic, and vinyl

Helps clean walls, floors, furniture, and any equipment not harmed by water

Features a pleasant scent
Instructions on how to use chemical
Easy-to-Follow Instructions
To use All Surf, simply dilute with water per instructions. Brush, sponge, or mop onto wet surfaces, and then rinse with clean water.
Before Use
All Surf can be used to clean concrete, porcelain, chrome, plastic, vinyl, or any surface not harmed by water.
After Use
Cleaning with All Surf will leave your equipment, furniture, or floors sparkling and will keep your employees and customers happy.
Noble Chemical Brand
Noble Chemical brand supplies are a smart addition to any restaurant, hotel, or healthcare facility, and this handy cleaner will keep your floors looking good as new. Our selection of Noble Chemical products includes a variety of institutional and industrial supplies, like cleaning chemicals, insect control solutions, disinfectants, and other products, all of which are available at competitive prices. Plus, these chemicals come packaged in simple jugs and containers that are versatile enough for nearly any job in a business.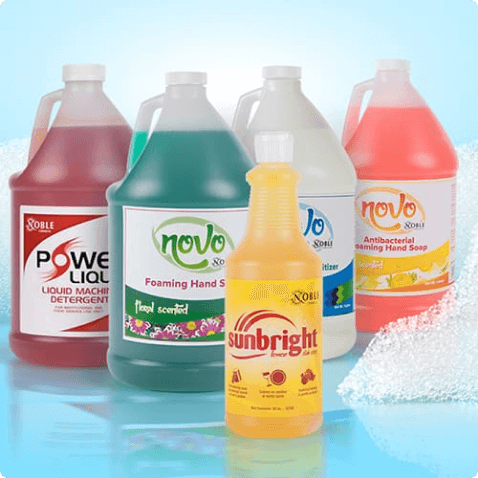 Noble Chemical All Surf
Looking for a non-toxic and non-corrosive cleaning agent that is tough on soils? Check out Noble Chemical's All Surf. Perfect for cutting through stains and soils to leave behind a polished surface.
Customer Reviews
5
Based on 15 reviews
5
87%
4
7%
3
7%
2
0%
1
0%
Share your thoughts
If you've used this product, leave a review to tell us and other customers what you thought about it.
Share your Thoughts
Eric K.
5
This is a great multi use cleaner that is nice for cleaning walls behind stoves and fryers!! Easy to keep a clean kitchen from floor to ceiling!!!!
Wedding D.
5
Good general cleaner for tables, counters, floors, etc. Seams to do the job really well. A little of this stuff goes a really long way.
Elizabeth H.
5
this all purpose liquid cleaner is a really good product. we use it everywhere. even works great on kitchen equipment. and for this price per gallon you really cant beat it.