Item# 999CITRAKLEN
CitraKleen 1 Qt. (32 oz.) Concentrated All Purpose Citrus Cleaner & Degreaser
This Noble Chemical concentrated all-purpose citrus cleaner and degreaser is perfect for cleaning the various surfaces found in most kitchens and bathrooms. This heavy duty cleanser removes even the toughest of grease, dirt, and mineral build-ups. Its natural citrus solvent leaves behind a pleasant orange scent, refreshing any room in the process. This product works on tile, porcelain, stainless steel, and other hard surfaces.
Resources and Downloads
Great for cleaning and removing grease from multiple surfaces

Safe for use on tile, porcelain, stainless steel, and other hard surfaces

Natural citrus solvent for extra strength cleaning power

Environmentally friendly formula

Leaves surfaces with a pleasant, orange scent
Instructions on how to use chemical
Easy-to-Follow Instructions
To use CitraKleen, spray or mop the solution on the surface you want to clean. Allow concentrate to remain on the affected surface for several seconds, then wipe off with a damp cloth. This bottle also includes clear step-by-step instructions printed on the label.
Noble Chemical Brand
Noble Chemical brand supplies are a smart addition to any restaurant, hotel, or healthcare facility, and this handy cleaner will keep your floors looking good as new. Our selection of Noble Chemical products includes a variety of institutional and industrial supplies, like cleaning chemicals, insect control solutions, disinfectants, and other products, all of which are available at competitive prices. Plus, these chemicals come packaged in simple jugs and containers that are versatile enough for nearly any job in a business.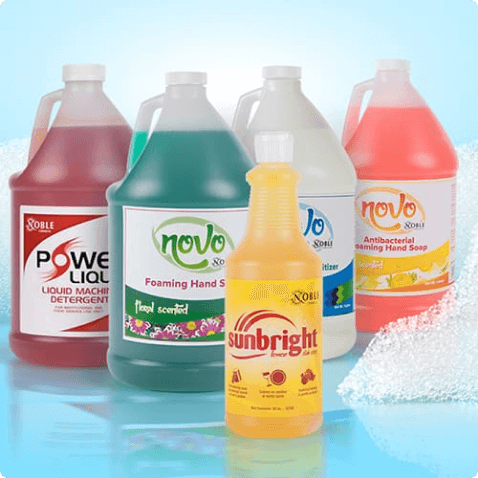 Convenient Design
This bottle's easy-to-grip neck fits perfectly in your hand, and the small mouth allows you to dispense the exact amount of cleaner you need.
Eco-Friendly Product
CitraKleen all-purpose cleaner is made of natural citrus ingredients, making it an environmentally-friendly choice for any business.
Power of Citrus
With a refreshing orange scent, this formula is a natural citrus solvent that is perfect for cleaning and removing grease from multiple surfaces.
Noble Chemical Citra Kleen
Check out Noble Chemical's Kleen, solvent that is perfect for cleaning tile, porcelain, and other hard surfaces.
Customer Reviews
5
Based on 36 reviews
5
89%
4
8%
3
3%
2
0%
1
0%
Share your thoughts
If you've used this product, leave a review to tell us and other customers what you thought about it.
Share your Thoughts
DEBRA M.
5
We used to use the name brand yellow cleaner in gallon containers but I totally prefer this now. it smells wonderful and cleans great. I would even use this in my house.
Helane L.
5
I purchased Noble All Purpose Citrus Cleaner and Degreaser for personal use. I absolutely love this product! I used it to clean my kitchen and it left a wonderful clean scent. I would definitely purchase again!
Tyler W.
5
this product smells as good as it works! my employees like that it does not smell like a harsh cleaning agent ( it smells like oranges) , and it cleans better than most of the cleaners we were purchasing from elsewhere.
Customer Q&As
This individual bottle does not ship with a sprayer because the manufacturer includes several of them when shipping a full case of the product. We've found that many of our customers already have the necessary sprayer on-hand since they order this product by the case. If you do need a sprayer, you can find a compatible one in the "Works With" section of the page.