Item# 999DRYITLOW1G
Dry It 1 Gallon / 128 oz. Low Rinse Aid gallon / Drying Agent for Low Temperature Dish Machines
Get a spot-free shine and quick drying time with this Noble Chemical Dry It low rinse aid for low temperature dish machines. The liquid aid rinse can be used in all water conditions and contains a specially formulated drying agent that is best suited for use on china, glasses, silverware, and plasticware in low temperature dish machines. For use with automatic dispensing systems only, this liquid rinse will be sure to brighten your restaurant dishes and impress your customers.
Resources and Downloads
Provides quick drying time

Best suited for use on china, glasses, silverware, and plasticware
Instructions on how to use chemical
Easy-to-Follow Instructions
To use Dry It HD, simply insert a rinse aid pickup tube into the container's opening. The rinse aid will then be automatically dispensed into your dishwashing machine. Replace with a new container when empty.
Noble Chemical Brand
Noble Chemical brand supplies are a smart addition to any restaurant, hotel, or healthcare facility, and this handy cleaner will keep your floors looking good as new. Our selection of Noble Chemical products includes a variety of institutional and industrial supplies, like cleaning chemicals, insect control solutions, disinfectants, and other products, all of which are available at competitive prices. Plus, these chemicals come packaged in simple jugs and containers that are versatile enough for nearly any job in a business.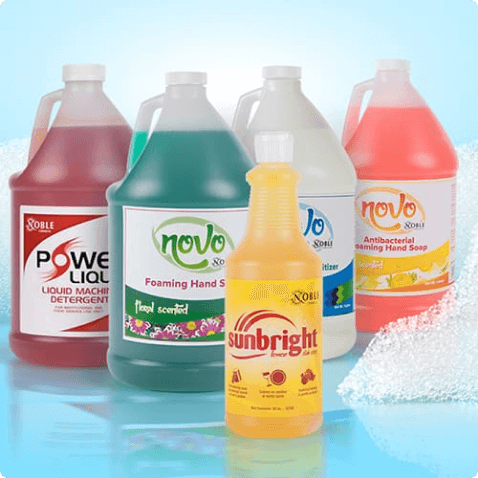 Convenient Design
This bottle's easy-to-grip handle fits perfectly in your hand, and the small mouth allows you to dispense the exact amount of cleaner you need.
Customer Reviews
5
Based on 7 reviews
5
100%
4
0%
3
0%
2
0%
1
0%
Share your thoughts
If you've used this product, leave a review to tell us and other customers what you thought about it.
Share your Thoughts
Geraldine C.
5
This rinse aid product works as well as or better than the name brand product we had been using. The deal is much better. Great value!
Faye S.
5
Before we used this, our plastic and china would still be practically soaking wet as we got it our of the dishwasher. Now, they are practically dry with no spotting. Our glassware comes out spotless and dry as well. Plus, the cost is so much lower than leading brands in the grocery store. I would buy this again!
Abby G.
5
The Noble Chemical 1 Gallon Dry It Low Drying Agent for Low Temperature Dish Machines Is a great quality product for an unbeatable price. You can definitely save a lot of money by buying in bulk. You can't go wrong with this product!