Item# 999EXCEL
18 oz. Excel Ready-to-Use Stainless Steel Cleaner / Metal Polish
This Noble Chemical Excel ready-to-use aerosol stainless steel cleaner and metal polish utilizes an advanced, water-based formula to provide the best of both worlds. The oil-out emulsion enables the product to clean and polish like an oil based product but without the oiliness or flammability. It is excellent for elevators, escalators, and other areas where residual oil cannot be tolerated. It's also great for use in food preparation areas, where the odor of mineral spirits and aromatic solvents would be objectionable. This lemon scented stainless steel and metal polish cuts through grease and oil while leaving a protective shine. It works well on other metals such as chrome, brass, copper, and more!
Resources and Downloads
Won't attract dirt like an oil-based product

Approved for food preparation areas

Lemon scented

Works on stainless steel, chrome, brass, copper, and more
Instructions on how to use chemical
Easy-to-Follow Instructions
The back of every bottle of Noble Chemical Excel aerosol stainless steel cleaner features easy-to-follow instructions. Simply spray directly onto your metal surface, and wipe away with a dry cloth.
Before Use
This spray can be used on just about any metal surface, from food prep tables to elevator doors. You can use it on stainless steel, chrome, brass, copper, and more.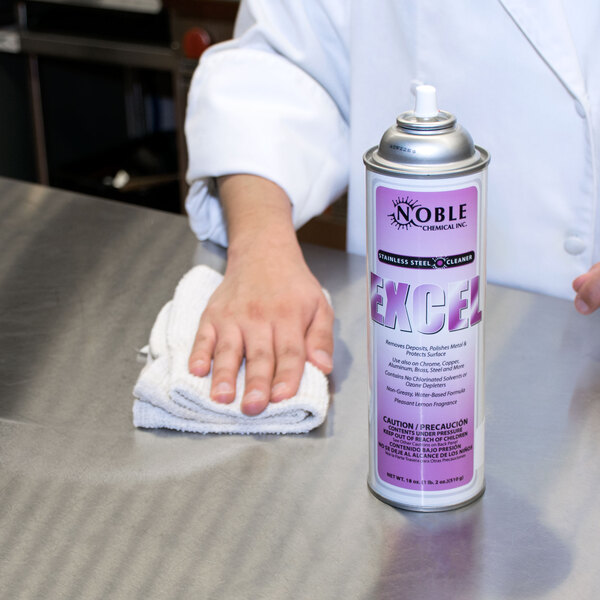 After Use
This stainless steel cleaner won't leave behind a greasy residue, unlike an oil-based product, which can attract dust and dirt even after you've cleaned with it.
Noble Chemical Brand
Noble Chemical brand supplies are a smart addition to any restaurant, hotel, or healthcare facility, and this handy cleaner will keep your floors looking good as new. Our selection of Noble Chemical products includes a variety of institutional and industrial supplies, like cleaning chemicals, insect control solutions, disinfectants, and other products, all of which are available at competitive prices. Plus, these chemicals come packaged in simple jugs and containers that are versatile enough for nearly any job in a business.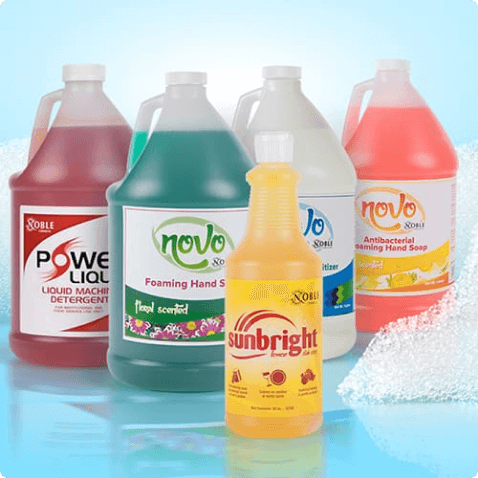 Noble Chemical Excel
Learn how Noble Chemical Excel can be used to in your business to polish and shine your stainless steel surfaces!
Customer Reviews
5
Based on 80 reviews
5
91%
4
5%
3
3%
2
0%
1
1%
Share your thoughts
If you've used this product, leave a review to tell us and other customers what you thought about it.
Share your Thoughts
Daniel S.
5
This cleaner/polish works great. I am glad we found this product, before we were using Vinegar and water to cut the dirt and prevent streaking. We use this after each even to make sure our stainless looks like new.
Yoel R.
5
Wow! this stainless steel spray really works! I sprayed it on my appliances, and was pleasantly surprised to see that the stains came off and the shone stayed on!
Gail P.
5
My took told me to get some Sheila shine and I about had a heart attack when I saw the price. So I bought this for him instead and it works just as good!