Item# 999PANPROI
Pan Pro I 1 gallon / 128 oz. Concentrated Pot & Pan Soap
Give your pots, pans, dishes, and flatware an unparalleled sparkle by washing them with this Noble Chemical Pan Pro I concentrated liquid warewashing detergent. This liquid detergent is a high sudsing formula with a heavy-duty cleaning ability. The suds and cleaning power hold even while soaking dishes. It is the perfect solution for industrial, institutional, and restaurant settings where grease emulsification and lasting suds are a must.

Although this liquid detergent is tough on grease and fats, it's also easy on your hands and dishes, making it safe for all your employees to use. With usage dilutions as little as 1 oz. per 3 gallons of water for manual dish washing, this 1 gallon container of Pan Pro I will go a long way. It's heavy-duty formula will not disappoint when tackling the toughest grease and grime in a busy kitchen, making this liquid dish detergent a must have.

To use this Pan Pro I pot and pan soap, simply follow the instructions printed on the label. For heavy-duty cleaning, fill your sink with 1 oz. of detergent per 1 gallon of water. Allow the water to flow onto the soap. For optimal results, scrape and remove as much solid food and waste as possible from your pot or pan prior to putting it in the soap. Afterwards wash the item in the diluted mixture and rinse thoroughly in clear, hot water. You can also hook this soap up to a suds-control dispenser for easy handling.

Dilution Instructions:
- Dilute 1 oz. per 1 gallon of water for pots and pans
- Dilute 1 oz. per 2 gallons of water for pots and pans
- Dilute 1 oz. per 3 gallons of water for dishes
- When using a suds control dispenser, 1 squirt is equal to 1 oz. of detergent
Resources and Downloads
Works equally well in hard or soft water

Heavy-duty cleaning power

Quickly cuts through grease, dirt, and grime

Gentle on hands and eco-friendly

Great for manual warewashing and other general purpose cleaning
Instructions on how to use chemical
Easy-to-Follow Instructions
To use this Pan Pro I pot and pan soap, simply follow the instructions printed on the label. First fill your sink with 1 oz. of detergent per 1 gallon of water for heavy duty cleaning. Allow the water to flow onto the soap. For optimal results, scrape and remove as much solid food and waste as possible from your pot or pan prior to putting it in the soap. Afterwards wash the item in the diluted mixture and rinse thoroughly in clear, hot water. You can also hook this soap up to a suds-control dispenser for easy handling.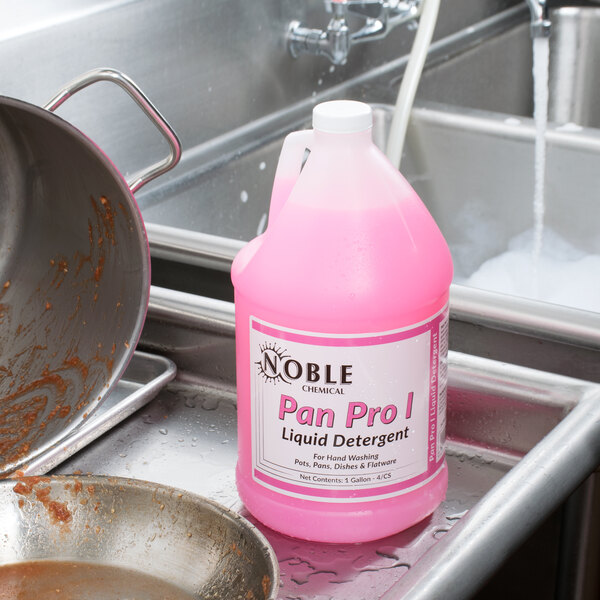 Before Use
Formulated for restaurant, industrial, and institutional use, this high sudsing detergent is perfect for high-volume establishments.
After Use
This Noble Chemical Pan Pro I pot and pan soap will quickly cut through grease, dirt, and grime, but will not harm your hands or cookware.
Noble Chemical Brand
Noble Chemical brand supplies are a smart addition to any restaurant, hotel, or healthcare facility, and this handy cleaner will keep your floors looking good as new. Our selection of Noble Chemical products includes a variety of institutional and industrial supplies, like cleaning chemicals, insect control solutions, disinfectants, and other products, all of which are available at competitive prices. Plus, these chemicals come packaged in simple jugs and containers that are versatile enough for nearly any job in a business.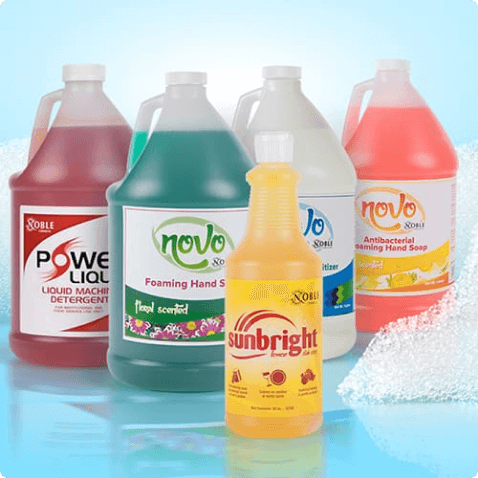 Customer Reviews
5
Based on 17 reviews
5
88%
4
6%
3
6%
2
0%
1
0%
Share your thoughts
If you've used this product, leave a review to tell us and other customers what you thought about it.
Share your Thoughts
Patrick M.
5
A great option for your dishwashing needs. We use this in our commercial setting and have zero problems getting every dish spic and span. We wash everything by hand and this gets the job done.
Steven C.
5
I highly recommend Noble brand products! Made in the USA! Very high quality and a good value. LOVE this soap! It has the perfect amount of fragrance. It smells clean, but the smell does not linger or stay on your hands too long. I have sensitive allergies and this product does not bother my allergies at all. It feels very rich on your hands and foams up well. Lots of suds. The pink coloring is great! It makes my hands feel so clean. It will make your pots and pans shine!
Kaleena G.
5
We are very satisfied with this product! It is easy to use and a little bit goes a long way! It lasts for a long time as well!