Item# 999POWER4#
4 lb. / 64 oz. Power Machine Concentrated Dishwasher / Laundry Detergent
Designed for use in both commercial dishwashers and laundry machines, this dual-purpose Noble Chemical Power concentrated detergent helps outfit your operation with a sparkling, professional clean. The fast-acting formula is specially created for heavy soil loads and hard water conditions, ensuring the best possible performance in any restaurant, cafeteria, school, or hotel.

For added convenience, this detergent comes in a 4 lb. container with integrated carry handle for easy transport from one location to the next. It is safe for use on all china and plastic dinnerware, and its highly stable chlorine solution boasts exceptional destaining capabilities!

Dilution Instructions:
Dilute 1/4 oz. of detergent per gallon of water.
Resources and Downloads
4 lb. container with integrated carry handle

Fast-acting, dual-purpose detergent for dishwashing and laundry machines

Created for heavy soil loads

Effective in hard water conditions

Safe for use on china and plastic dinnerware
Instructions on how to use chemical
Easy-to-Follow Instructions
This detergent features easy-to-follow instructions for washing dishes and linens. Simply dilute in water and use as necessary for your dishwasher or laundry machine.
Before Use
This detergent is made specifically for heavy soil loads, and its fast-acting, chlorinated formula works even with hard water to clean your dishes or linens.
After Use
Noble Chemical Power detergent is powerful enough to clean on the first wash cycle, making it perfect for busy restaurants, cafeterias, healthcare facilities, and hotels.
Noble Chemical Brand
Noble Chemical brand supplies are a smart addition to any restaurant, hotel, or healthcare facility, and this handy cleaner will keep your floors looking good as new. Our selection of Noble Chemical products includes a variety of institutional and industrial supplies, like cleaning chemicals, insect control solutions, disinfectants, and other products, all of which are available at competitive prices. Plus, these chemicals come packaged in simple jugs and containers that are versatile enough for nearly any job in a business.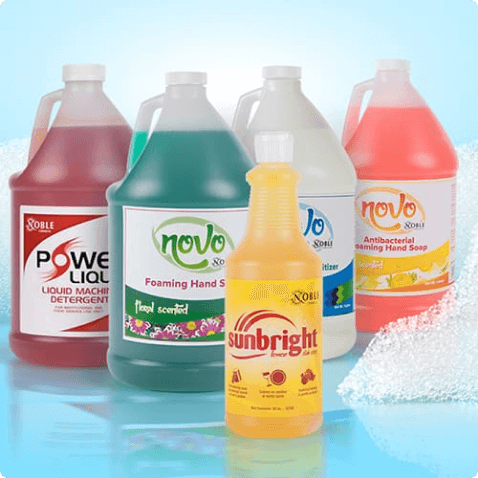 Customer Reviews
5
Based on 4 reviews
5
75%
4
25%
3
0%
2
0%
1
0%
Share your thoughts
If you've used this product, leave a review to tell us and other customers what you thought about it.
Share your Thoughts
Abby G.
5
The Noble hemical 4 lb. Power Machine Dishwasher/ Laundry Detergent works great. It leaves dishes clean with no residue. It also works great for Laundry. I would purchase it again.
Sara K.
5
I couldn't be happier! This works great for both dishwashers and as a Laundry Detergent. A little goes a long way. I would recommend this to anyone.
Ayline B.
5
This is a great dishwasher/laundry detergent. Its powerful so it cleans the dishes very well. I would use just a little at a time. It works well and would recommend!
Customer Q&As
No. This chemical is not recommended for use on aluminum or other soft metals such as silver, gold, or pewter. It contains ingredients that could damage such materials.