Item# 999SILVASOAK
8 lb. / 128 oz. Silva Soak Tableware Concentrated Presoak Powder
Give a sparkling clean tabletop presentation for your guests and customers with this Noble Chemical Silva Soak tableware concentrated presoak powder! This powder presoak effectively loosens, softens, and removes food soil films from silverware, stainless steel, flatware, glass, and any other tableware material. By using this tableware presoak, unsightly and unsavory food stains on "clean" dishes becomes a thing of the past! This presoak is also effective for cleaning up tarnished silver and can be used in both hard and soft water conditions.

Instructions:
Dilute 2 oz. per gallon of water for normal conditions. Use 4 oz. per gallon for heavily soiled or tarnished items. Presoak and detarnish at 140 to 150 degrees Fahrenheit for 10 to 15 minutes.
Resources and Downloads
De-tarnishes silver

For use in hard or soft water
Instructions on how to use chemical
Easy-to-Follow Instructions
To use this product, follow the instructions on the label. Simply dissolve the suggested amount of product per gallon of warm water. Allow dinnerware to soak in solution, then rinse thoroughly and cycle through dish machine.
Noble Chemical Brand
Noble Chemical brand supplies are a smart addition to any restaurant, hotel, or healthcare facility, and this handy cleaner will keep your floors looking good as new. Our selection of Noble Chemical products includes a variety of institutional and industrial supplies, like cleaning chemicals, insect control solutions, disinfectants, and other products, all of which are available at competitive prices. Plus, these chemicals come packaged in simple jugs and containers that are versatile enough for nearly any job in a business.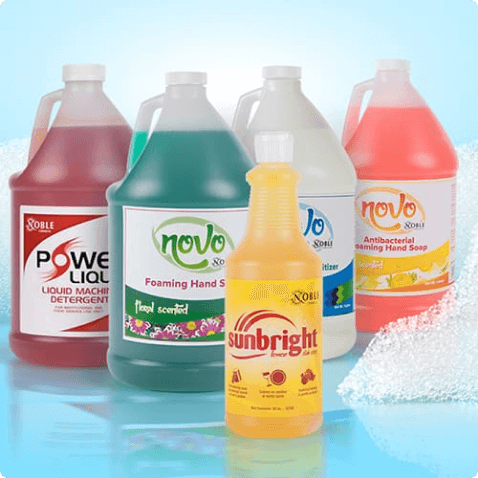 Removes Grease and Food
Since this product comes in a convenient disposable dispenser jar, it can be simply thrown away once it is empty.
Disposable Dispenser Jar
Since this product comes in a convenient disposable dispenser jar, it can be simply thrown away once it is empty.
Customer Reviews
4.5
Based on 20 reviews
5
80%
4
15%
3
0%
2
5%
1
0%
Share your thoughts
If you've used this product, leave a review to tell us and other customers what you thought about it.
Share your Thoughts
Christopher M.
5
The 8 lb. Noble Chemical Silva Soak Tableware Presoak Powder saves time at the end of the day. Well worth purchasing since it means our dishwashers have less work getting our silverware spotless. Each piece rinses cleaner and dries with less residue decreasing the need for polishing overall.
Abby G.
5
The 8 lb. / 128 oz. Noble Chemical Silvia Soak Tableware Presoak Powder is a great product at an excellent price. It makes your silverware look brand new.
Phil R.
5
This presoak powder is great for our cafe dishwasher. It really helps streamline the washing process and ensures that our silverware gets clean and stays shiny.