Noble Chemical 18 oz. Spot-B-Gone Instant Carpet Spot and Stain Remover - 12/Case
Item #: 148SPOTBGONE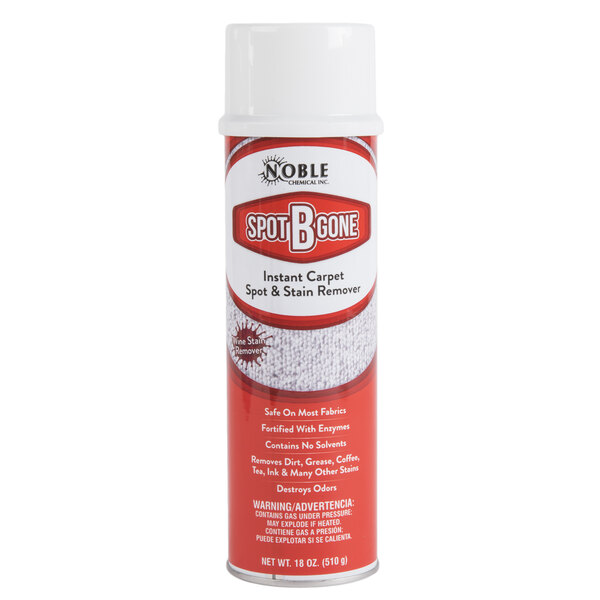 Product Description
Remove even the toughest stains and reinvigorate your carpet with this Noble Chemical 18 oz. Spot-B-Gone instant carpet spot and stain remover! Get rid of unsightly dirt spots and food stains to keep your carpeted foyer, dining area, and hallways looking just like new. Fast-acting degreasers and surfactants work to remove oil, dirt, mud, ink, soft drinks, coffee, wine, and many other stains. Strong enough to remove deep stains, but gentle enough to maintain the quality of your carpet, this cleaner is an essential component for any business that wants to keep a clean, professional appearance.

This spray is made with a powerful enzymatic formula that penetrates grease, blood, urine, and other protein-related stains. Though tough enough for commercial and industrial environments, you can rest assured that this spot remover does not contain solvents that might damage or soften your carpet backing. The odor neutralizer destroys bad odors and leaves behind a pleasant fragrance.

To use, shake well and hold the aerosol can upside down. Spray Spot-B-Gone at a downward angle until the spot or stain is covered. It will foam up after it's sprayed on the carpet, and you should allow a short period of time for the formula to work. Then, blot the stain with a clean cloth, and the stain or spot will be gone in seconds!