Item# 147METSAFLIQ5G
Metal Safe Concentrated Dishwashing Liquid 5 gallon / 640 oz.
Clean your dishes with this Noble Chemical Metal Safe concentrated dish washing liquid. This low suds dish washing liquid effectively removes hardened food particles to give your dishes a clean and bright shine. Its unique formula is aluminum-safe giving you the freedom to clean a wide variety of dishes in one cycle, saving you time and water to make your warewashing system more efficient. For use with an automatic dispensing system, this detergent should be mixed with water in either a hot water sanitizing machine or a low temperature, chemical sanitizing dish machine.
Resources and Downloads
Removes hardened food particle

Safe for use on aluminum and other soft metals

Saves you time and water

For use with both high and low temperature machines

Low suds
Instructions on how to use chemical
Easy-to-Follow Instructions
To use this Noble Chemical Metal Safe dishwashing liquid, simply hook it up to your commercial dish machine according to the instructions printed on the label. Dispose of used containers when empty.
Noble Chemical Brand
Noble Chemical brand supplies are a smart addition to any restaurant, hotel, or healthcare facility, and this handy cleaner will keep your floors looking good as new. Our selection of Noble Chemical products includes a variety of institutional and industrial supplies, like cleaning chemicals, insect control solutions, disinfectants, and other products, all of which are available at competitive prices. Plus, these chemicals come packaged in simple jugs and containers that are versatile enough for nearly any job in a business.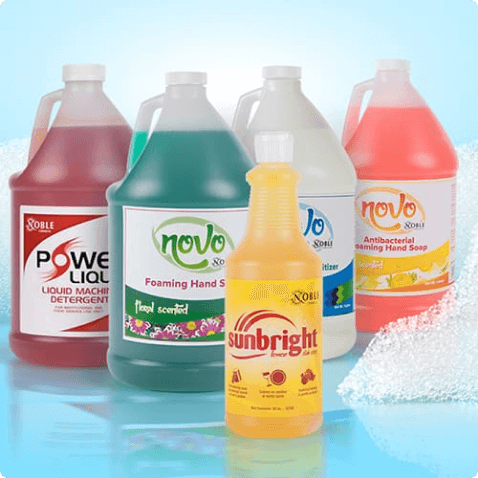 Safe for Use on Aluminum
This dishwashing liquid can be used in either high or low temperature dishwashing machines, for use in any facility.
Versatile Applications
This dishwashing liquid can be used in either high or low temperature dishwashing machines, for use in any facility.
Customer Reviews
5
Based on 3 reviews
5
100%
4
0%
3
0%
2
0%
1
0%
Share your thoughts
If you've used this product, leave a review to tell us and other customers what you thought about it.
Share your Thoughts
Sara K.
5
This is an excellent versatile Detergent. It leaves everything sparkling clean and doesn't discolor aluminum. The price is excellent for the amount of product. I plan on purchasing this again.
Abby G.
5
The Noble Chemical Metal Safe Dishwashing Liquid 5 Gallon works great! It leaves dishes sparkling clean with no residue. The price is great too. I would purchase this again.
Donald W.
5
this dishwashing liquid never fails us when it comes to making sure our dishes are sparkling clean. It definitely gets the job done better than the rest, leaving our dishes with a very nice shine. We highly recommend this product.