Item# 147QUIKSAN1G
1 Gallon / 128 oz. QuikSan Food Contact Ready-to-Use Surface Sanitizer Refill - 4/Case
Noble Chemical's QuikSan ready-to-use food contact surface sanitizer is designed to attack and eliminate 99.99% of harmful bacteria on all hard, non-porous surfaces. This powerful, ready-to-use solution is perfect for sanitizing virtually all food contact surfaces quickly and efficiently. QuikSan can easily be carried from room to room and surface to surface and does not require buckets or time-consuming dilution processes. Whether you own a restaurant, food truck, or convenience store, Noble Chemical's QuikSan is sure to meet your needs as well as exceed the cleanliness and safety standards your customers expect.

Thanks to the easy-to-follow instructions, QuikSan makes cleaning a breeze. Before using QuikSan, remove large food particles from the surface to be cleaned by pre-flushing, pre-scraping, or pre-soaking. Rinse these areas thoroughly with water, and then spray the chemical on the affected surface. Wet the area for several minutes and allow it to drain and air dry. Do not rinse or wipe QuikSan off of the cleaned surface. Noble Chemical brand supplies are a smart addition to any restaurant, hotel, or healthcare facility, and this handy surface sanitizer will keep sanitation-sensitive areas clean.

Overall Dimensions:
Package Size: 1 gallon
Resources and Downloads
Eliminates 99.99% of harmful bacteria on surfaces in 60 seconds

Safely and effectively sanitizes food contact surfaces

Ideally suited for prep tables, processing equipment, utensils, and other kitchen surfaces

Convenient ready-to-use formula does not require chemical mixing or diluting

No rinse required
Instructions on how to use chemical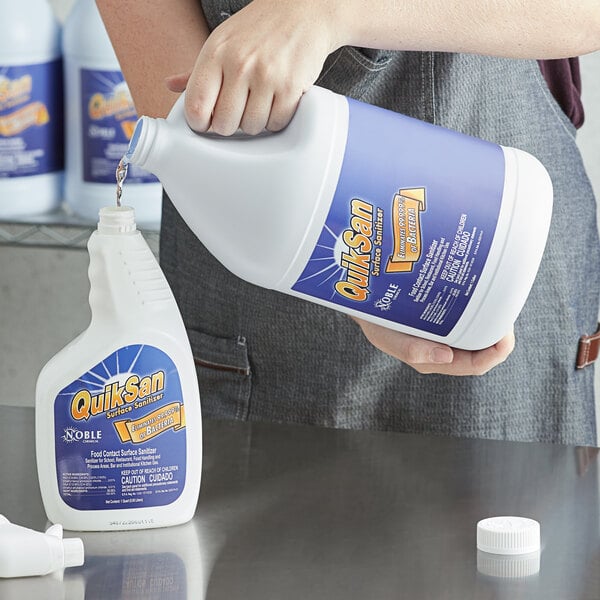 Easy-to-Follow Instructions
Before using QuikSan, remove large food particles from the surface to be cleaned by pre-flushing, pre-scraping, or pre-soaking. Rinse these areas thoroughly with water, and then spray chemical on the affected surface. Wet the area for several minutes and allow it to drain and air dry. Do not rinse or wipe QuikSan off of the cleaned surface.
Noble Chemical Brand
Noble Chemical brand supplies are a smart addition to any restaurant, hotel, or healthcare facility, and this handy cleaner will keep your floors looking good as new. Our selection of Noble Chemical products includes a variety of institutional and industrial supplies, like cleaning chemicals, insect control solutions, disinfectants, and other products, all of which are available at competitive prices. Plus, these chemicals come packaged in simple jugs and containers that are versatile enough for nearly any job in a business.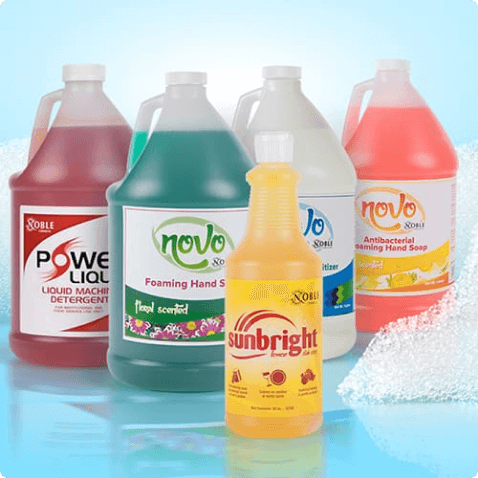 Customer Reviews
5
Based on 102 reviews
5
92%
4
5%
3
2%
2
1%
1
0%
Share your thoughts
If you've used this product, leave a review to tell us and other customers what you thought about it.
Share your Thoughts
John H.
5
When i first bought this i thought well i can mix up the sanitizer cheaper than this. But after i have used this there is no reason to waste my time doing so this is a much cheaper way to do things.
Kiersten C.
5
love this product
Belinda R.
5
We use this spray during and after food preperation. We also us this spray on the tables between each service period of the youth. It is almost the perfect spray. Right now I cannot find any reason not to use it. Photos of staff using the spray is available but site will not download pics at this time.
Customer Q&As
Sanitizer solution temperature must be at least 75 degrees Fahrenheit. The maximum safe temperature for prolonged bare hand contact is 120 degrees Fahrenheit. If protective gloves are used, the maximum safe temperature is 140 degrees Fahrenheit.