Item# 999QPALLPURP
QuikPacks 0.5 oz. Concentrated All Purpose Cleaner/Deodorizer Packs 90 Count Tub
Keep a wide variety of surfaces clean and fresh with these Noble Chemical QuikPacks 0.5 oz. concentrated all purpose cleaner/deodorizer water soluble packets! This cleaner comes in convenient, concentrated powdered detergent packs that quickly dissolve in water, reducing packaging waste, and leaving a solution ready for cleaning. These pre-portioned packets are easy to use and do not require chemical dispensers or measuring equipment to make properly diluted cleaning solution, helping to reduce chemical waste. It is safe to use on a range of surfaces and materials, including stainless steel, chrome, quarry tile, terrazzo, marble, concrete, ceramics, porcelain, and painted surfaces. It is perfect for walls, floors, and countertops. This product is a great addition to your established cleaning program with a formula you can trust.

This cleaner's fresh lemon scent will create a pleasant aroma in your commercial kitchen, restroom, or office break room. Use one pack mixed with 4 gallons of water for lighter messes, one pack with three gallons of water for normal cleaning jobs, and one pack with two gallons of water for heavy messes. Make sure to rinse with water after cleaning. Noble Chemical brand supplies are a smart addition to any restaurant, hotel, or healthcare facility, and these handy cleaner packs will keep your establishment spotless.

Overall Dimensions:
Capacity: 0.5 oz. per packet
Resources and Downloads
90 packets per tub

For use on a variety of surfaces like walls, floors, and countertops

Fresh lemon scent

Concentrated powdered detergent is pre-portioned for ultimate convenience

Dissolves quickly in water to make ready-to-use cleaning solution
Noble Chemical Brand
Noble Chemical brand supplies are a smart addition to any restaurant, hotel, or healthcare facility, and this handy cleaner will keep your floors looking good as new. Our selection of Noble Chemical products includes a variety of institutional and industrial supplies, like cleaning chemicals, insect control solutions, disinfectants, and other products, all of which are available at competitive prices. Plus, these chemicals come packaged in simple jugs and containers that are versatile enough for nearly any job in a business.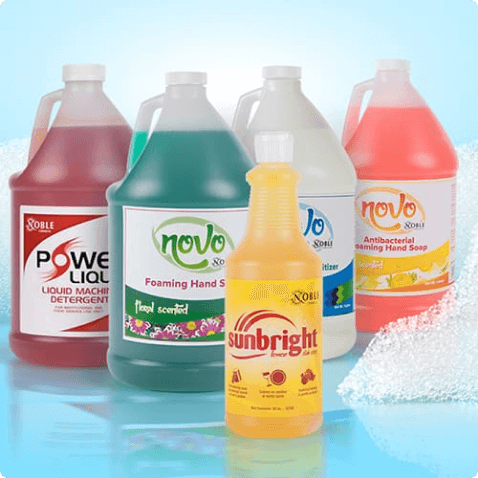 Easy-to-Use Packets
This cleaner comes in convenient, concentrated powdered detergent packs that quickly dissolve in water, leaving a solution ready for cleaning. Use one pack mixed with 4 gallons of water for lighter messes, one pack with three gallons of water for normal cleaning jobs, and one pack with two gallons of water for heavy messes.
Versatile Uses
This solution cleans and deodorizes a variety of materials, including stainless steel, chrome, quarry tile, terrazzo, marble, concrete, ceramics, porcelain, and painted surfaces. It is perfect for walls, floors, and countertops.
Noble Chemical Water Soluble QuikPacks
Noble Chemical water soluble QuikPacks are a convenient, eco-friendly solution to your cleaning needs! Watch this video to learn more about these versatile cleaning packets.
Customer Reviews
5
Based on 12 reviews
5
92%
4
8%
3
0%
2
0%
1
0%
Share your thoughts
If you've used this product, leave a review to tell us and other customers what you thought about it.
Share your Thoughts
Chris R.
5
We use this in our shop and it is great! Just pop one packet into a mop bucket and fill it up. No need to measure or worry about wasting product or money. The solution cleans the floors great and there is no need to rinse!
Monique A.
5
I switched to this versus liquid. It has helped keep overpouring and waste of product down. It has a good shine to the floor.
Cassandra C.
5
These make it so easy for our staff when cleaning the bathrooms at the end of the night. In fact no need to clean just drop it in and go!